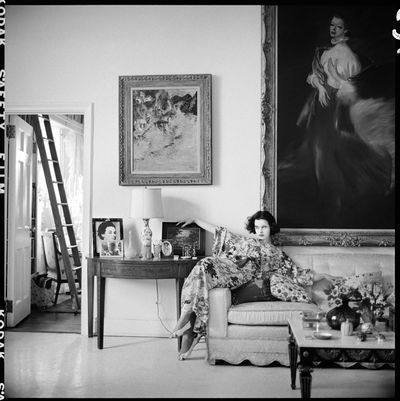 Gloria Vanderbilt, 10 Gracie Square, New York, May 26, 1956.
Photo: Richard Avedon/© The Richard Avedon Foundation
The first time I met Gloria Vanderbilt, I was about 6. I started storing away memories of her then when my family went to the fantastical Christmas parties she hosted each year, first at 10 Gracie Square when she was married to Sidney Lumet, and then later in a townhouse at 45 East 67th Street when she was married to Wyatt Cooper. As she welcomed our family and the other guests to the festivities, she left me dazzled. Her rooms were drenched in the scents of Rigaud candles and the exquisite flowers that towered above the elaborately set tables, and the women at the parties wore evening clothes and sparkling jewels, taking the opportunity to look their most magnificent best.
But it was the time that I watched Gloria enter another Christmas party at Geraldine Fitzgerald and Stuart "Boy" Scheftel's apartment, when I was slightly older, that opened a door for me to something I didn't quite understand yet. Gloria had come in with Sidney Lumet, and I could feel the sparks between them. She seemed — as I once wrote about her — "linked to a world of untamed glamour that made her totally mysterious." After Sidney removed Gloria's mink coat, she stood quite still in front of the long mirror in the hall and studied her silhouette. She was wearing a gray cashmere dress cut close to the body, no jewelry, and bright-red stockings and ballet slippers. She arranged her hair so that not a strand was behaving in a way that didn't conform to her head. She was oblivious to me and my sister Tonne, and our best friend Susan Scheftel, as we had stopped playing to watch the pantomime she performed in preparation for her entrance into the living room filled with the other guests.
That brief scene left an impression on me that lay dormant, unstirred for years. One day, during lunch with my mother sometime in early 2003, at Gloria's apartment, lightning struck again, this time in the form of a framed black-and-white photograph leaning against the wall near where I was sitting. It was a picture of Gloria sort of sliding off one side of a sofa in a grand room under a grand painted portrait of herself by John Carroll, and the way she looked was the way I wanted to feel every day of my life. (That's the photo above.) The look said, "I know who I am, I know the power I have, and I will use it exactly as I please." Her friend Richard Avedon took the photograph and it hit me like nothing else I can remember. I asked Gloria, trying to sound off-the-cuff casual, if she had more photographs like that, taken not only by Avedon but also by other photographers. She answered in her velvet ribbon of a voice, "Oh yes, I have many." Did she know then that she had poured gasoline on a fire? I was from then on obsessed, and I knew that I had to do a book on the entire oeuvre, the entire scope of Gloria's life.
People knew Gloria from her bedeviled family history, the scandal of the court fight between her mother, Gloria Morgan — twin of Thelma Morgan, who asked her friend Wallis Simpson to look after her lover, the Prince of Wales, when she went away on a trip, inadvertently changing the course of history — and her father's sister, Gertrude Vanderbilt Whitney. After Gloria's father, Reginald Claypoole Vanderbilt, died in 1925, shortly after her birth, her mother and her aunt spent years fighting for control of Gloria's life and fortune. They knew that the heartbreak of being taken away from her mother when her aunt won the case was made all the more unbearable by the judge's decision to remove the one person who loved and supported Gloria unconditionally — her nanny, Dodo. A later generation knew that Gloria was a fashion icon, dressing herself in ways that no one else did, decorating her houses with that same unique flair, or that she made fashion history in 1977 by launching a line of something new called designer blue jeans. (She no doubt realized that keeping her name out of the papers was impossible; why not harness that unavoidable attention and make a fortune?) Or that she designed fabrics and tableware and wrote how-to books, novels, and poetry, and was an extraordinary painter and collage artist in her own right. But I felt sure that they didn't know how Gloria created the woman she became, how gifted and thoroughly she lived her life as an artist, and how deeply she was able to love and forgive the unimaginable. I felt a book on her life, in spite of the many books she had written, could tell the story about this woman who invented herself anew every day.
Our routine for the months of research I did when I was writing The World of Gloria Vanderbilt went like this: I would go to her apartment on Beekman Place at ten every morning. Gloria would greet me at the front door ready to work. She would often be wearing her painting smock, a sign that she had already been down to the studio, one floor below. Gloria's strict work ethic and discipline were legend, but this was the first time I experienced her ability to shut out everything except the task at hand. We spent hours in the library, which was also the dining room, where we went through boxes of letters and photographs, many of which I had never seen. We dealt with notes Gloria had made so as to remember to tell me to research a story — and then if she felt in the mood to be interviewed, I would tape our conversations about various episodes in her life, treading gently around so much of it until we got our rhythm down. In our early days together, there were times when I would say something that hit a raw nerve, something I had to remember never ever to say again. Gloria was haunted by memories that made certain things off limits, and it was my job to find out where and what they were so that we could proceed without her shutting the door, because once she shut the door on someone, that person never gained entry again.
But as sensitive as Gloria was to perceived slights, she was equally compassionate and hypersensitive to others' feelings. She initially asked me not to include the famous photograph, made to promote her jeans collection, of her sitting amid a group of models who were bending over, showing their derrieres. Gloria looked at that picture as we sat together and lamented that those models had come to the shoot that day made up and excited — only to be told to bend over and hide their faces. She said she was horrified.
The last time I saw Gloria was the day that we filmed an "Interior Lives" video with her at her home on Beekman Place in September 2018. I had been delighted and surprised when she'd agreed to do it, as I knew that she really wasn't going out anymore and rarely had people in, save for family and close friends. Days before the shoot, Gloria sent me photographs of the entire apartment to show to our crew so they would get a sense of how much there was to film. When the day came, there she was, the professional, disciplined Gloria, in full work mode. She had laid out dress options and jewelry to go with each, for us to review beforehand. She had ordered a massive tray of William Poll tea sandwiches for our crew, and her staff had set everything out on the kitchen table, along with silver from the Breakers, the massive Italian Renaissance palace built by Cornelius II and Alice Vanderbilt that dominates the shoreline of Newport, Rhode Island. Her sweetness, her humor, and sense of fun were all in play that day as she directed us to the exact location in her bedroom where she wanted to be filmed. Her sly humor, enthralling everyone in the room, comes right through onto the screen. Her comfort in front of the camera reminded me of the portrait that Gloria credits with changing her life. It's another one by Richard Avedon, one where she is looking the viewer in the eye with the authority of a goddess who will not be challenged. She described the day she entered Avedon's studio coiffed for the sitting, with little Grecian spit curls hugging her face. When she stepped onto the set, Avedon came over and brushed her hair back with his hands, sweeping away the fussiness, and that simple gesture, and the resulting portrait, instilled a confidence and vision that took hold for Gloria from that day forward.
She was a die-hard romantic with a will of iron. After a childhood in which her surroundings were breathtaking but her emotional life was neglected, and subsequent marriages that were not always smooth, she eventually figured out how to live life on her own terms, and maintained that pure independence until the very end. One of the many lessons I learned from being with Gloria and listening to her thoughts was that we are not made from "what if"; we are made from "what is," and that reality gives us the tools for the life we choose. Her last husband, Wyatt Cooper, described Gloria best when he wrote, "She moves on strange planes, that girl; she is a creature of some other mystery not altogether of this world, part wood nymph, part Earth Mother, and part American Beauty rose … She is as exotic as a unicorn and as subtle as an Egyptian temple cat … If she has not made of herself a living work of art, she's come damn close, or as close as anybody I'd ever want to meet."