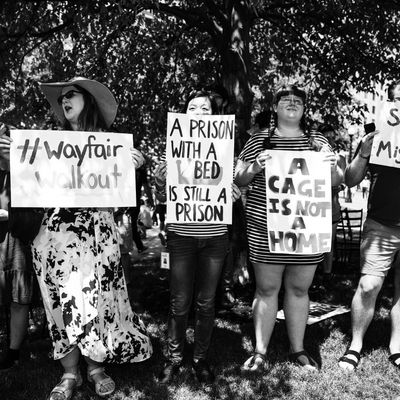 Photo: Scott Eisen/Getty Images
This week, the home goods company Wayfair discovered that everything is political. News that Wayfair had been profiting off of selling beds to the detention centers along the southern U.S. border was immediately met with disgust by people both in and outside of the company. In response, 500 Wayfair employees — about 10 percent of the company, according to one protester — walked out of the Boston headquarters on Wednesday afternoon.
The protesters are asking Wayfair to cease doing business with BCFS, a government contractor that manages the camps, and to establish a code of ethics. "I don't think [these goals are] unreasonable and I don't think our leadership team won't entertain them," an organizer for the walkout told the Cut.
At the event, many employees wore Wayfair shirts, and stressed that they generally liked the company despite the walkout. "It's not a strike, it's not a protest, it's showing our company how committed we are to this process," the organizer said.
Just before the protest, Wayfair announced it would donate $100,000 to the American Red Cross because of its "effort to help those in dire need of basic necessities at the border." At the walkout, however, an employee argued before the crowd that the donation should to go to RAICES, not the Red Cross. "We're asking that we're actually supporting the communities and the people and the children who are being affected by this sale," the organizer said. "But we feel lucky that we work for an organization that is making a large donation."
On Monday and Tuesday, before the walkout, the company said that it stood by its decision to fulfill the order placed by BCFS. In an unsigned letter, company executives wrote, "We believe all of our stakeholders, employees, customers, investors, and suppliers included are best served by our commitment to fulfill our orders." In a meeting with Wayfair employees on Tuesday, co-founder Steve Conine said, "The level of your citizenship as citizens is really the appropriate channel to try and attack an issue like this. To pull a business into it — we're not a political entity. We're not trying to take a political side."
So what happens now? An organizer told the Cut that the walkout was considered a success, but the demands have not been met. The protesters will continue speaking with management to try to ensure that their business won't be profiting off of human misery.