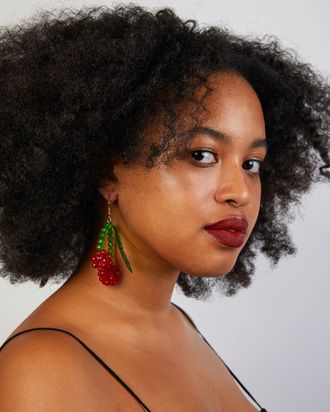 Photo: Alistair Matthews.
If the goal of fashion is to put things on your body that make you happy and feel good — which I'd like to believe it is — then wearing earrings in the shape of food is a logical, if unorthodox, choice. Earrings shaped like food have been cropping up (pardon the pun) everywhere lately, whether you're walking around Nolita or looking at the "accessories" page of fast-fashion chains. The past two summers were all about dangling big, abstract shapes from your ears; this year, it's about adorning yourself with things that can be found at a picnic.
This is a relatively young look, and a maximalist one. It's playful. The girl who owns cherry earrings probably also wears a lime green crop top with a lime green miniskirt and a Pepto-pink handbag. It's also easy to imagine Amy Sedaris wearing a pair. But if the sight of a cinnamon roll–shaped earrings doesn't make you squeal, you're probably thinking, Why would someone want that?
The answer, it turns out is pretty simple: because it's fun. I reached out to Susan Alexandra, a buzzy accessories designer whose beaded handbags have appeared on Suri Cruise's arm and whose earrings have appeared in Gigi Hadid's ears. Hadid was wearing smiley faces, but Alexandra also makes jewelry facsimiles of apples, oranges, grapes, lemons, and watermelons. "The food motif-wearing person is a cheeky, rogue-ish type who delights in pieces that stand out. This is no wallflower," she said. "I love the nostalgia, whimsy and playfulness of food imagery. A hot dog with a face! A cherry with lips! A baked potato with high heels! All of it is so darn happy." And though the look is trending, she notes it will be in her collection "for the foreseeable future." Given her happy-go-lucky brand, I don't doubt her sincerity.
The story of modern food jewelry begins in Japan with the Kawaii aesthetic, which is all about things that are cute and tiny — like miniature foods. The larger stuff hit the runway in 2017, when Dolce & Gabbana walked cannoli, carrot, and eggplant accessories down the runway.
And although the word "camp" has been used enough times this year, it's hard to deny that food jewelry is campy. This year's camp-themed Costume Institute show includes all manner of food-themed pieces, like a shoe that resembles a peeled banana by Isabel Canovas, a cake bag by Anna Sui, and a prosciutto print dress by Jeremy Scott.
If you leave the museum and start browsing Etsy or Baublebar, though, you'll notice that many of the available food earrings center around fruit, specifically the cherry — that historic symbol of both horniness and innocence. For worshippers of Lana Del Rey, who want to convey a sort of arch, knowing Lolita vibe, a cherry feels cute and edgy at the same time.
But if you're spending designer-level money on a food-inspired item, you might not want it to be quite so lighthearted. Is it possible to wear food jewelry and look … sophisticated?
At a panel on powerful women hosted by the clothing line Lafayette 148, panelist Lauri Freedman was wearing grape earrings. Freedman works at the Whitney Museum, and maybe that knowledge was enough to imbue them with a sophisticated, artsy mystique. Her daughter makes them. She sees them as a less self-serious take on statement jewelry. "At first I thought they would be casual and just a lark, but then I realized that there was something almost regal about them," Freedman said.
It's rare for an item to look regal and playful at the same time. But I could see Freedman's point. I saw it again when I looked at Chef Stephanie Nass's Blini and Caviar earrings, from her newly launched home accessories line. They appear, at first glance, like an abstract design, but then you look closer and can see the plating and the individual black balls.
Nass also makes cookie and pasta earrings (everyone loves pasta now.) When I asked why, she said, "Why arbitrary shapes??? Why flower earrings?? Food is designed to entice, so it makes sense that it should adorn our bodies as jewelry." I mean, it makes sense as much as anything else.
Shop the Story
If you buy something through our links, New York may earn an affiliate commission.