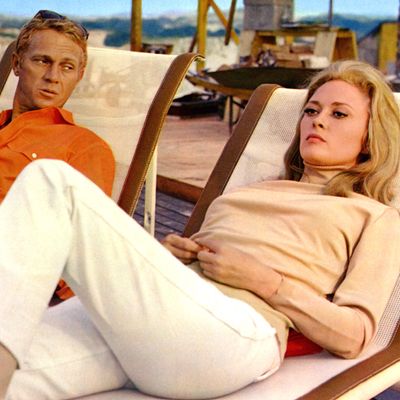 Faye Dunaway in unstained jeans.
Photo: Courtesy Everett Collection
Like Ahab finding a white whale or the Olsen twins finding the perfect T-shirt, I have managed the impossible and found the perfect white jeans. Or, more accurately, I found them twice.
DL1961's white Hepburn pants came into my life in April 2017. Somewhere around the Fourth of July, I wore them to sit on a rust-covered chair, drink Prosecco from a red Solo cup, and watch hot guys play tennis for way too long, and when I got up, there was a faint terra-cotta stain on the upper back thigh that wouldn't come out no matter what I did.
So I relegated them to the back of my closet, where they languished until the day that one of my co-workers showed up to the office in white jeans that were just very faintly stained all over. He looked terrific — chic, but like he wasn't trying too hard. It was a moment of epiphany for me: White jeans don't have to be pristine. And that's how I found my perfect white jeans a second time.
White jeans are often associated with preps and the quintessential French Girl™. Preppy white jeans are impeccably clean, skinny, and worn with a brightly patterned blouse, wedges, and statement jewelry. French Girl white jeans are impeccably clean and worn with sweaters and coats in the dead of winter. This led me to the erroneous conclusion that blindingly white jeans were the only acceptable kind and that I must never wear mine to anything fun lest they get stained.
But the preppy girl and the French girl are fictional characters. I am a real person, and sometimes I want to wear white jeans to the park or to Van Leeuwen. A grass stain here, the ghost of some chocolate gelato there — such small things add character. White jeans are like a leather jacket (or a pair of non-white jeans, for that matter) in that they look better with age.
This is one of the fashion rules that's refreshingly practical — who has time to make sure their pants are totally, forever spotless? Nobody. Well, probably the former Vogue editor known for her uniform of white jeans, a dark top, and a scarf, but we can't all be Tonne Goodman. She's the exception that proves the rule.
You don't have to go dunking paint on your pants (unless you want to go for the splatter-paint look that's so popular among young streetwear fanatics). But really, a few stains are no big deal. If your pants get stained, don't buy new ones or attack them with bleach. If you must compare yourself to an archetype, think of the Brooklyn potter who's too artistic to keep her jeans clean. But you could also just see the stains as proof that you've been having a good time.
Three Pairs of White Jeans That Would Look Good Stained
Photo: 18-05-01 eddaoskarsdottir AM1 B3 robstebler W
Available in sizes 24–33.
Available in sizes 00–40.
Available in sizes 23–33.
If you buy something through our links, New York may earn an affiliate commission.