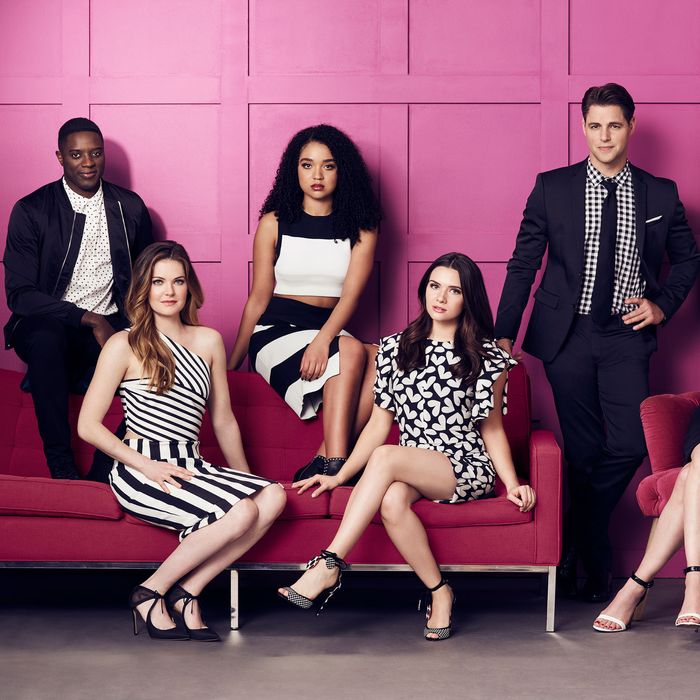 Photo: Justin Coit/Freeform
Freeform's The Bold Type is a workplace dramedy about three 20-something women figuring out who they are as they take on life in New York City and somehow figure out how to get from midtown Manhattan to Greenpoint in under 15 minutes. Yes, much of the action takes place around Sutton, Jane, and Kat — the star employees of women's magazine Scarlet — but there are plenty of others who also appear to barely work as part of their jobs at this sexy fashion magazine.
How does a publication where people rarely write and also sometimes expense several hundred dollars for a Schedule II substance actually function? The show, like the magazine at its center, is a glossy representation of the media world, but suspension of disbelief has never stopped me from wondering what working with some of the characters who inhabit Scarlet's bullpen would be like in a real-world context. Ahead of next week's season finale, with some careful consideration, I have detailed the pros and cons of every potential Bold Type cubicle-mate, from the consummate colleague to the co-worker who would have definitely been fired by now.
Jacqueline Carlyle, Editor-in-Chief
PROS: Will tell you hard truths in a way that you don't even realize she's cutting you down; will put the good of the company ahead of her own personal gain; admits when she's wrong; supportive but isn't afraid to tell you to get a freaking grip, Jane; never gets flustered, even while an ex-lover and advertiser has a severe allergic reaction in her fishbowl office; friends with Sasha Velour.
CONS: Intimidating; better than you at everything, so don't even try it; has a treadmill desk, which, like, WE GET IT.
Would She Be a Good Co-worker? It might be a different story if she were your peer, but it's honestly the one thing Jane Sloan is very, very right about: Working with Jacqueline is a true honor.
Sage, Sex & Dating Writer
PROS: Only around when needed; will entertain you for hours with ridiculous sex stories like how she got injured falling off a sex swing. Honestly, what more could you want?
CONS: Are you always up for talking about penetration before you've had coffee?
Would She Be a Good Co-worker? Sage is a bullpen blessing.
Richard Hunter, In-House Counsel and Board Member
PROS: Keeps his cool even when dumb writers don't follow his legal advice; Is the voice of the future on a board that has an average age of 114; Very good at legal stuff.
CONS: He does enter into a relationship with someone like, 300 levels below his position, but he's very by-the-book about it, so that's not totally terrible; He's very good-looking, which could be distracting.
Would He Be a Good Co-worker?: I guess it depends on what kind of work environment you're looking for: Do you want it to be fun? Because Richard is a rule-follower. Do you want it to be functional? Richard is your guy when he's not busy making out with his girlfriend, which happens a lot.
Alex Crawford, Writer
PROS: Let's assume that since he has been employed for several years, he's a decent writer who makes his deadlines, although at Scarlet, one never knows; he's kind and patient and doesn't seem like he'd double-cross you (he wants for nothing!); he has knowledge on getting keys copied.
CONS: He likes Jane so much he's willing to be her temporary roommate, so his sanity has been called into question.
Would He Be a Good Co-worker? Poor Alex, always relegated to serving the plot. The story lines in which he's dating Sutton or dealing with the fallout of realizing he was the subject of The Bold Type's take on The New Yorker's "Cat Person" show that he seems to be pretty decent and that his decency trickles into his workplace etiquette. He's the most relatable representation of your typical, friendly co-worker on the show.
Oliver Grayson, Fashion Director
PROS: Loves his job and is hard-working; looks incredible both with glasses on his face or on his head.
CONS: Demanding; does not take notes well; can be distracted by personal problems; puts way too many scathing critiques of fashion designers in writing; HAS NO TIME FOR IT.
Would He Be a Good Co-worker? He's probably tough to work with since he does things the way he wants to, but he is the perfect workplace mentor: able to push you and support you simultaneously. He'll also give you a fun workplace nickname, so that's nice.
Sutton Brady, Fashion Assistant
PROS: Works her skinny butt off; doesn't cut corners; understands workplace hierarchy; excellent at balancing work with extra-curricular activities; hilarious; knows where all the free food is.
CONS: Will expense $500 worth of cocaine to the company card and almost lose a $5,000 necklace and never suffer consequences for it. Wouldn't it be so annoying to watch that from your desk?
Would She Be a Good Co-worker? Sure, she spends a lot of work hours in the fashion closet, but she stays late to make up for it. Sutton has goals, so she prioritizes work, but she will also round up people for after-hours drinks. What's better than a co-worker who knows how to both work hard and play hard?
Patrick Duchand, Head of the Dot-Com
PROS: He does seem to know what he's doing, digitally speaking; he's pushing Scarlet out of its comfort zone, which is usually a good thing; has good hair; stood up for equal pay by exposing his penis during an HR meeting.
CONS: Underestimates people over 50; has no boundaries; sits on an exercise ball and therefore cannot be trusted; says "dot-com" too much; Stood up for equal pay by exposing his penis during an HR meeting.
Would He Be a Good Co-worker? He'd be annoying, but he's competent? He also was totally cool when he found out Jane made a drinking game about him, which leads me to believe that he takes himself less seriously than all that "namaste-ing" would indicate. In short, you certainly could do worse than Patrick.
Andrew, Executive Assistant
PROS: Knows all the hot goss; Can navigate a complicated suit; great at answering phones, probably.
CONS: Attempts to wield what little power he has over everyone else (Andrew, the doors are glass, we know she's available); only speaks in sarcasm and sass, which while fun for a tertiary character on a cable dramedy, is much less fun when spending 40-plus hours with a human; does not know how to correctly label an Important Lunch Order and then will blame you when you eat it accidentally — truly the most grievous of workplace crimes.
Would He Be a Good Co-worker? He's basically the Gretchen Weiners of Scarlet, but would you really want to work with Gretchen Weiners all day? I don't know your life, but probably no.
Kat Edison, Director of Social Media
PROS: Forward-thinking; creative; helps unfortunate interns find the correct coffee place on their first day; will fight to get ridiculous hiring practices changed.
CONS: Has made several Twitter faux pas, which is like her one job; works three hours a week.
Would She Be a Good Co-worker? If you like doing all of someone else's work while she gets the glory, constantly explaining where your co-worker is, having to watch as someone's job takes a back seat to a political campaign that came out of nowhere, and launching a new website while the director of social media goes on a field trip, then yes, sure.
Jane Sloan, Writer
PROS: Will leave you alone because she's very busy doing "important" stuff; passionate?
CONS: Creates her own work hours; makes everything about her; is one of those people who's like, "This is so bad, I'm awful" and then wins awards; if she thinks you don't deserve your job, she will try to take you down without knowing anything about your life; is somehow always in the middle of the crisis; has a problem with every assignment; yells at editor-in-chief in front of everyone; wears a harness-purse-strap-hybrid-dress thing on her first day of work, which is so insane it would definitely be the only thing I could ever think about and would distract me so much that it would ultimately lead to me losing my job.
Would She Be a Good Co-worker? Might as well be microwaving salmon.