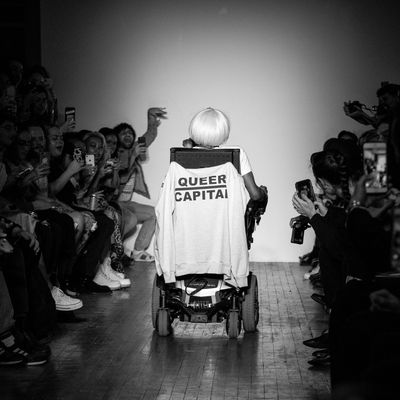 Aaron Phillip.
Photo: Eli Schmidt
Willie Norris isn't shy about his gay agenda. The designer makes T-shirts that say things like "Promote Homosexuality" and "Incite Queerness," and last week he held his first runway show, backed by a Kickstarter campaign in which he promised to create queer clothes for queer bodies by a queer designer.
Held at La Mama Galleria in Noho, the inaugural Willie Norris Workshop show introduced a full range of sellable utility-wear, with 19 sustainable looks made from deadstock fabric and repurposed clothing. There were tank tops, T-shirts, blazers, leather accessories, and lots of denim. Norris had a bit of fun styling the collection: one model carried a chunky-heeled boot with a baseball bat tucked inside. "I never design with a gender in mind," Norris told the Cut. "It's what I like to call like queer American sportswear, or American sportswear with a queer sensibility."
Norris intentionally made sure the casting was radically inclusive, putting queer bodies in what's traditionally considered menswear. Nightlife personalities like artist and drag queen West Dakota and performer Charlene Incarnate walked. Aaron Phillip, a disabled trans model recently signed to Elite NYC, closed the show with a hoodie draped on the back of her wheelchair and a T-shirt that both read, in bold letters, "QUEER CAPITAL."
This Pride Month, when the rainbow corporate branding seems especially rampant, Norris's vision of a radical queer fashion vocabulary stands out. Rather than seeking to capitalize on LGBTQ+ people, he's trying to create capital for them. Scroll down for images from the show.