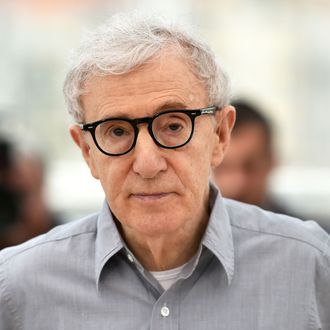 Woody Allen.
Photo: Alberto Pizzoli/AFP/Getty Images
Nevertheless, he persisted: Woody Allen is set to begin filming his 51st film — with the working title "WASP2019" — in Europe this summer. Any chance you'll be stopping by San Sebastián between July 10 and August 23? Congratulations! You might get to see Allen mumbling directions to a cast that includes Elena Anaya, Louis Garrel, Gina Gershon, Sergi López, Wallace Shawn, and Christoph Waltz. The movie will be produced by Mediapro, which collaborated with Allen on Midnight in Paris, You Will Meet a Tall Dark Stranger, and Vicky Cristina Barcelona.
According to a release, this new film will be another classic Allen movie about the foibles of falling in love while white: "The film tells the story of a married American couple who go to the San Sebastián Film Festival. They get caught up in the magic of the festival, the beauty and charm of Spain and the fantasy of movies. She has an affair with a brilliant French movie director, and he falls in love with a beautiful Spanish woman who lives there. It is a comedy-romance that resolves itself in a funny but romantic way."
Meanwhile, in Manhattan, Allen has filed a $68 million lawsuit against Amazon, accusing the company of breach of contract for shelving Allen's Selena Gomez–Timothée Chalamet movie A Rainy Day in New York. In response, Amazon said renewed attention to molestation accusations against Allen and Allen's own comments about the #MeToo movement made the film impossible to promote and release.