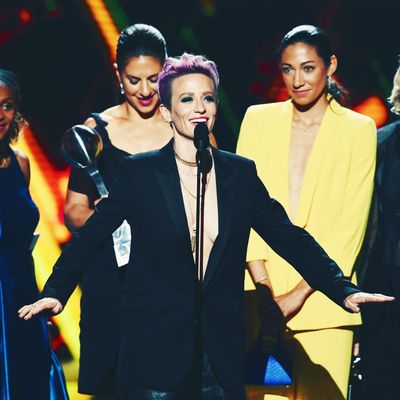 Megan Rapinoe and the rest of the U.S. Women's National Soccer Team.
Photo: Kevin Winter/Getty Images
The U.S. Women's National Soccer Team — sincerely, what can't they do? They can win the World Cup multiple times, do days-long benders better than hangover-resistant college students, and, as they proved at the 2019 ESPYs last night, wear the hell out of a suit.
Following the joyous ticker-tape parade in Manhattan, the women's team jetted out to Los Angeles to accept the "Best Team" award at ESPN's annual ceremony, where three star players — striker Christen Press, midfielder Megan Rapinoe, and forward Tobin Heath — traded in their kits for deep-V suits with delicate long necklaces. That these three would be the ones to eschew feminine dresses for a traditionally masculine outfit is not all that surprising — they're three of the four U.S. Women's National team players who, in early June, launched Re-inc, a self-described "lifestyle brand" with a focus on gender-neutral apparel.
But to get back to the point: Have you ever seen so many glorious executions of the suit, and all in the same night, to boot? Gaze upon the sheer beauty of these exceptional sartorial decisions.
Striker Christen Press
Forward Tobin Heath
Midfielder Megan Rapinoe (and an honorable mention of her girlfriend, WNBA star Sue Bird)
Of course Megan Rapinoe and Sue Bird can pull off what few other couples do successfully: the matching outfit. (Stylist Karla Welch Instagrammed a photo of the couple, suggesting she was behind their looks.)
Also, we'd be remiss to not include a mention of goalkeeper Ashlyn Harris, who sported a run-me-over-level-of-hot suit to the team's yacht party on Tuesday. To all of you, we are so deeply indebted.