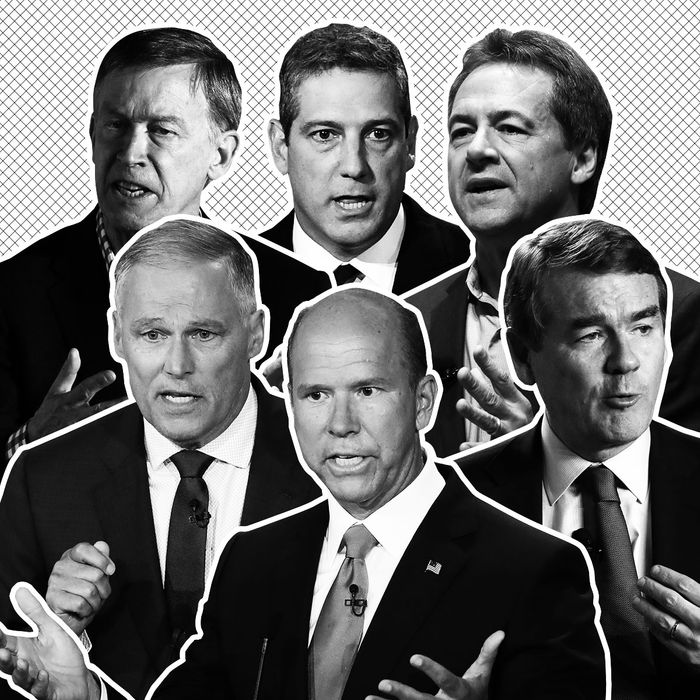 Who are these men?
Photo: Getty Images
Currently, there are over 20 candidates running in the Democratic presidential primaries. There's Elizabeth Warren, Bernie Sanders, Kamala Harris, Cory Booker, Orb Queen Marianne Williamson, several others, and also, these guys, the ones you see there in the picture.
Yes, that's actually a picture of six different men, not just one man in various stages of explaining the plot of The Big Lebowski to a woman who told him she'd already seen it. On the crowded debate stages, these indistinguishable men appear — for minutes at a time, sometimes — and I find myself wondering, Who is this man? Didn't he just talk? Who is this?
Some helpful tips: Two of them are named John. Two of them are from Colorado. Most of them skew centrist. All of them have haircuts that say they appreciate a sensible pair of Dockers khakis. Together, they represent nearly a quarter of the Democratic candidates, but are collectively polling at under 6 percent.
Is it worth investing time and energy into learning how to tell them apart? Only you, in a quiet moment of solitude, can answer that question. But if you would like to learn who these men are, perhaps as a sort of party trick or memory exercise, read on.
Michael Bennet
Who is he? He is the senior senator for Colorado.
What are some of his policies? Bennet is decidedly moderate. As Vox explains, he is big into bipartisanship and crafting legislation that both parties could sign on to, he vehemently opposes Medicare for All, and he stood and applauded when President Trump said during his 2019 State of the Union that "America will never be a socialist country." He is also a sponsor of the American Family Act, which would expand the country's child tax credit.
How can I remember him? Bennet sounds like "Ben," which was the name of this really cute guy from Utah that I met once, and Utah is pretty close to Colorado.
Steve Bullock
Who is he? Okay, this is clearly just Michael Bennet with a wig and a different name? But Google tells me he's a separate man, who is the governor of Montana.
What are some of his policies? Like Bennet, who is a "different person" (hmm), Bullock is also touting his bipartisanship, and his ability to work with the GOP legislature in Montana. His biggest issue is campaign-finance reform, and his campaign website says that, if elected president, on day one he would sign an executive order requiring all companies to disclose their campaign contributions, or be barred from working with the federal government.
How can I remember him? He's the Michael Bennet who's not Michael Bennet. Or maybe Michael Bennet's the Steve Bullock who's not Steve Bullock? In any case, he's the one who talks like a youth counselor telling the kids at the church retreat about how "chill" his friend "J.C." is, and that "vaping is for nerds."
John Delaney
Who is he? The former congressman for Maryland's Sixth Congressional District.
What are some of his policies? He's also moderate, and opposes many left-wing policies, including Medicare for All (it's worth noting that Sludge reviewed Delaney's financial disclosures and found that he has as much as $3.2 million of his estimated $280 million fortune invested in "health care companies and funds with health industry holdings.")
How can I remember him? He looks like if a thumb split from the other fingers and went to dine at Hooters alone.
John Hickenlooper
Who is he? The former governor of Colorado (he and Bennet are pals) and former mayor of Denver.
What are some of his policies? Hickenlooper also loves compromise, and working with politicians across the aisle. During Tuesday night's debate on CNN, he also denounced progressive policies, saying that focusing on issues like Medicare for All and the Green New Deal would effectively "FedEx the election to Donald Trump."
How can I remember him? Just take a gander at this thirst trap he posted before the CNN debate on Tuesday, and you'll never forget his face again because this picture will be seared on your retina. Also, he's said his comfort food is mints.
Jay Inslee
Who is he? The governor of Washington.
What are some of his policies? Inslee's raison d'être is climate change. He has a detailed "100% Clean Energy for America" plan, which includes requirements that all electricity be carbon-neutral by 2030, and that all new cars and light trucks be emissions-free by 2030.
How can I remember him? He painted this bear surfing!
Tim Ryan
Who is he? I don't know.
What are some of his policies? I don't know.
How can I remember him? I don't know. Please stop yelling.