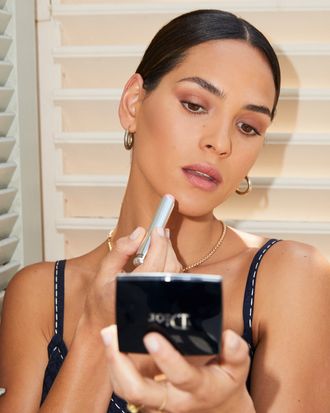 Adria Arjona.
Photo: Hughes Laurent for Christian Dior Parfums
Adria Arjona is about to be everywhere. Or, on almost every screening and entertainment-viewing method your eyes rely on. Smart TV and laptop wise, her breakout role was on HBO (True Detective season two), she's currently on an Amazon/BBC studios original (Good Omens with Frances McDormand and Jon Hamm), and in a Netflix thriller (Triple Frontier with Ben Affleck and Oscar Isaac). Big-screen wise, she's already been cast in two lofty franchises: a Marvel movie (Morbius, a Spider-Man spinoff with Jared Leto and Matt Smith), and a Michael Bay action film (6 Underground with Ryan Reynolds).
Yesterday, however, Arjona was the one doing the viewing, and it was of Dior's fall 2019 Haute Couture show in Paris, to be exact. "I've gone through Fashion Week, but this was my first fashion show in Paris and my first couture show. I was a little nervous, and didn't really know what to expect, because I've only seen them online, but to be there physically was very overwhelming and such a beautiful experience," she told the Cut.
Makeup artist Vincent Oquendo prepped Arjona for the show, and he didn't need much (some Diorskin Rosy Glow here, some Dior Lip Glow there, some Diorshow brow styler up top) which only left the Cut more compelled to catch up with Arjona to see if she had any sage skin-care advice to send our way (she did.)
What is your nighttime beauty routine like? 
It depends where I am. If I'm in L.A., I use a lot of oils. I love this Sisley-Paris Anti-Aging Nutrition Oil, it's so hydrating and everything in one. I love a simple Vitamin E, the one by Health Priority, is one of my favorites. I use a lot of Vintner's Daughter on my face, too, and then the Dior ChapStick. I love doing ChapStick at night, which everyone finds ridiculous, but I love it. I put a whole bunch of it on. If not that one, I'll also do Drunk Elephant's.
I also ice my face at night to close pores, and I'll ice my face in the morning to wake it up. You know all these quartz rollers and stuff that you can get on Amazon? Yeah, that's bullshit. You just grab ice from your freezer and it does the same thing. Make sure there's no sharp angles on it, because I've done that once and scratched my face. I'll use the ice to massage my face upward, always upward; it contours your face in a natural way. We all get a little bloat now and then, and this brings it all down. Slowly over time, your pores will appear smaller, too. It's cheap and you already have it in your house, which is my favorite kind of beauty tip. You have to try it.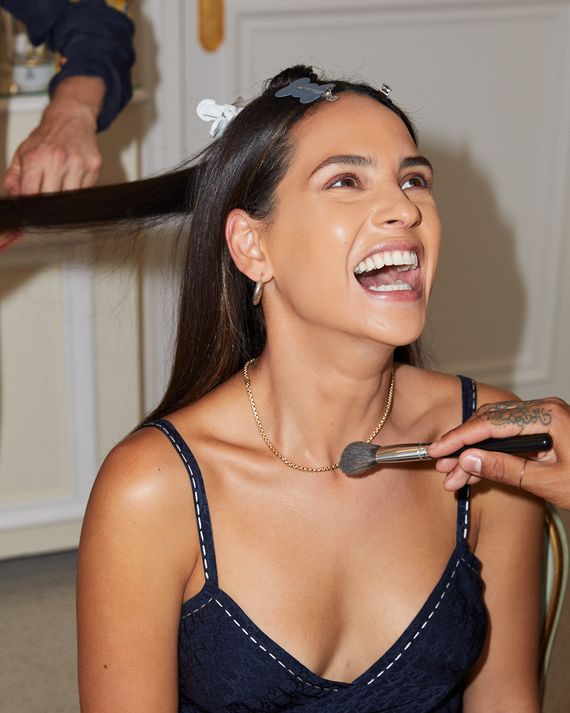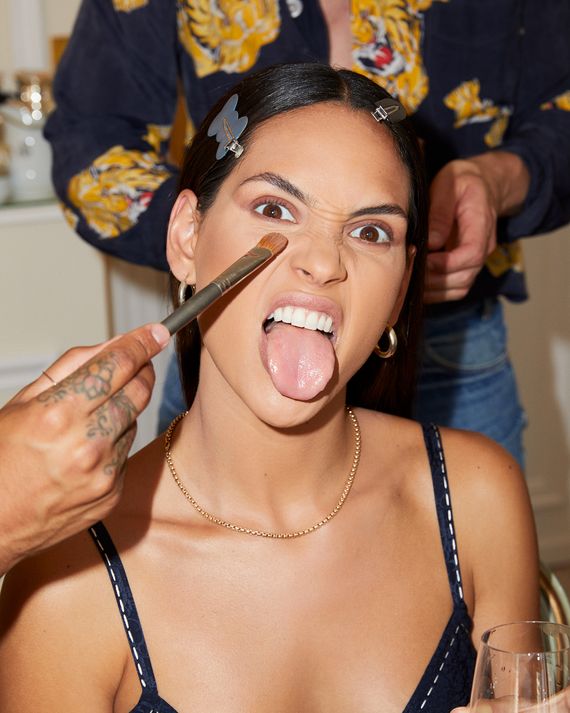 What time do you go to bed? 
If I'm filming, I'll probably go to bed around 10 p.m. because that means I have a 5 a.m. call time. If not, I'll probably go to sleep around midnight. I try. I get way more inspired at night, and I write a lot more at night, so I want to indulge in that. Some nights, I'll go to sleep at 4 in the morning, and then other nights, I just try to be good and healthy and I try go to sleep earlier. But if I'm home and don't have to film, I'll be going to sleep really late.
How do you deal with jet lag? 
I think a lot of people would disagree with me, but I think jet lag is all in the mind. I think if you're excited about the day and you're looking forward to something and you're positive, then your body kind of just goes with it. I felt jet lagged today, but I was just so excited about the show that I didn't feel it anymore. But if I'm in one of those days where I'm being kind of self-indulgent and don't have something particularly amazing like a Dior show to look forward to [laughs], then I'd probably do Epsom salts and just walk around; not so much caffeine. I'd stay away from caffeine.
Ok, rapid-fire round:
Matte lips or glossy lips?
Glossy. I'm Puerto Rican, baby! We love those glossy lips. No matte. It's too chic for us [laughs].
What's on your phone's lock screen?
I am making out with the love of my life.
What's the last thing you binge-watched? 
The Handmaid's Tale. And I actually saw her [Elisabeth Moss] today, and I almost had a heart attack, but I played it cool, so I'm very proud of myself. I think she's one of best actresses of our generation. She's incredible. I haven't finished it yet though, I still have a couple of episode left.
What's the last song that was stuck in your head?
"Bidi Bidi Bom Bom," by Selena; it's always stuck in my head.
When's the most nervous you have ever been?
I think mid-way through any small talk. I don't know how to continue and I also don't know how to get out of it.
What's your favorite snack? 
This is so bad, and I'm in withdrawals now because my trainer told me not to have them anymore, but Power Crunch Protein Bars. I don't recommend them. I mean, I do, they're delicious, what am I talking about?
What's the last text you sent? 
Let's see … I texted my stylist Danielle Nachmani  and I said "I hope!!" exclamation point, exclamation point.
What's your best beauty or wellness tip and where did you learn it? 
Lots of water. I've learned from experience. The amount of water that I drink is probably borderline unhealthy. But I love it.
Do you prefer it a certain way?
I like it cold. I don't do the whole European, room temperature thing. I like really, really cold water.
If you buy something through our links, New York may earn an affiliate commission.