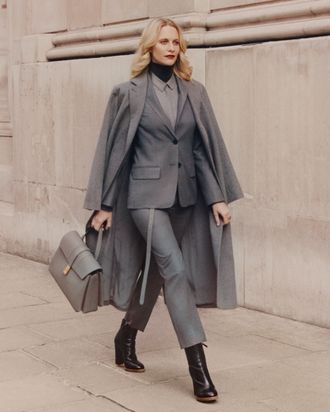 Photo: Courtesy of Agnona
Right now it is 93 percent humidity and all I will be swaddling myself in is linen, but that won't stop me from dreaming about less swampy times and outfits. A fresh addition to the mood board is Agnona's Eternals collection, which consists of various monochromatic power suits in sumptuous fabrics. Oh wool, you've been missed.
Simon Holloway, Agnona's creative director, set a lofty bar for himself with the Eternals collection. As the name suggests, they're meant to be classic (and durable) enough to be worn for years and years, no matter what is currently trending. Maybe you won't always wear them with sneakers (as Poppy Delevingne does in the campaign), but there's no denying a monochromatic outfit is pretty classic. And soothing to look at. If they really speak to you, the Eternals collection is available now at Bergdorf Goodman.