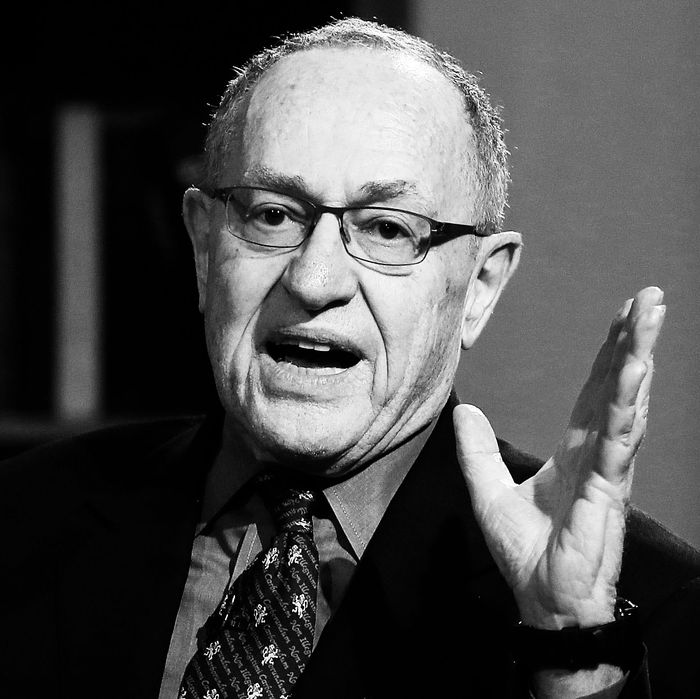 Alan Dershowitz.
Photo: John Lamparski/Getty Images
Below is a recap of the past week or so in the life of Alan Dershowitz, the attorney and TV pundit who stands accused of having sex with two of billionaire sex offender Jeffrey Epstein's alleged trafficking victims at his direction:
First, in an op-ed in Newsmax on July 17, Dershowitz publicly condemns an imminent New Yorker "hit piece" about him and his connection to Epstein, claiming that it's full of lies. A week and a half later, the piece comes out, with both of his accusers, Virginia Roberts Giuffre and Sarah Ransome, going on the record about their experiences with Dershowitz. The article also reveals that he has a history of smearing rape victims in the press, of strangely fixating on men accused of rape in his law school classes, and of arguing to lower the age of consent to 15. In response, Dershowitz decides … to tweet more about that last topic.
For a man who claims not to own a computer, his Twitter was certainly active overnight as Dershowitz discussed his "constitutional (not moral)" stance that "if a 16 year old has the constitutional right to have an abortion without state or parental interference, how could she not have the constitutional right to engage in consensual sex?" The world shuddered as Dershowitz used the familiar "1/" symbol to indicate that he was not done there, and we would simply have to wait to see when he would stop (in the end, it was mercifully a three-tweet thread).
Dershowitz seems to have forgotten that he suggested in his 1997 op-ed unearthed by the New Yorker that the age of consent be lowered to 15, not 16. In fact, at the time, he wrote emphatically, "It certainly should not be as high as 17 or 16."
Despite his decision to add a year to that original number, he apparently still thought it was a good time to double down on his views. As in the op-ed, he repeated a faulty analogy comparing statutory rape laws and the constitutional right to abortion, as if they contradict each other.
This is what we might call a prime example of the fallacy that one can successfully "post through it." Consider this a PSA that a Twitter meltdown is never a good idea, especially if you're being sued for defamation by multiple people.