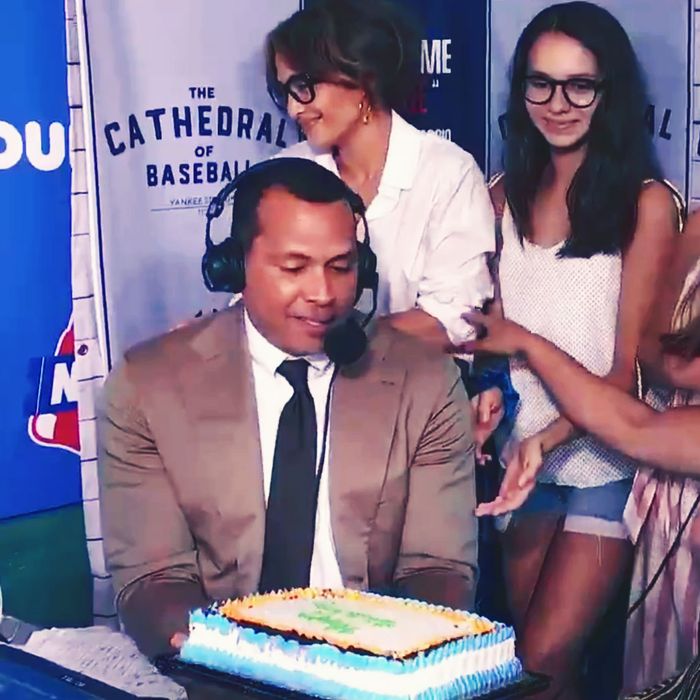 Look, we'd all like to be the cake Alex Rodriguez gave Jennifer Lopez on her 50th birthday last week — a gargantuan, ten-tiered, black-and-gold tower covered in flowers and sparklers that said "Jennifer" on the top, and was carried into her extravagant Miami birthday party by four men in suits. We'd even settle for being the cake Jennifer Lopez gave Alex Rodriguez for his 44th birthday a couple of days later — a four-tiered, Yankees-themed cake, draped in an icing "Rodriguez" jersey, with "Alex" spelled out in crystals at the top.
But sometimes, we falter. Sometimes, we simply don't have the mental or emotional bandwidth available to go above and beyond. Sometimes, we are the cake Jennifer Lopez gave Alex Rodriguez on air while he was hosting Sunday Night Baseball during a Yankees–Red Sox game: a despondent-looking, grocery-store sheet cake that said "Happy Birthday" in off-centered green icing.
"This is for the ESPN family, because we've already given you one," Lopez tells Rodriguez when his daughters bring in the cake, that looks like a sigh sounds.
"The whole summer has been one large cake," Rodriguez says to his co-workers, a sentence which also aptly describes my perfect summer.
To be clear, there is nothing wrong with a grocery-store sheet cake, just as there's nothing wrong with us when we don't have the energy to be a human ten-tiered birthday cake. Grocery-store sheet cakes are made of icing softer than silk, cake lighter than clouds, and though you can feel your teeth screaming as they dissolve in the dangerously high concentrations of high-fructose corn syrup, when you eat it, you are happy.
But this cake looks disappointed in itself. It knows it could have made a better showing; all it needed was some more decorations, flowers maybe, or balloons, or even just a larger, less green font. It could have been more on any other day, but just not that day. That day, all it could say was "Happy Birthday," on one wilting tier. That's okay. We all fall short sometimes. And you know what? People still enjoyed it.