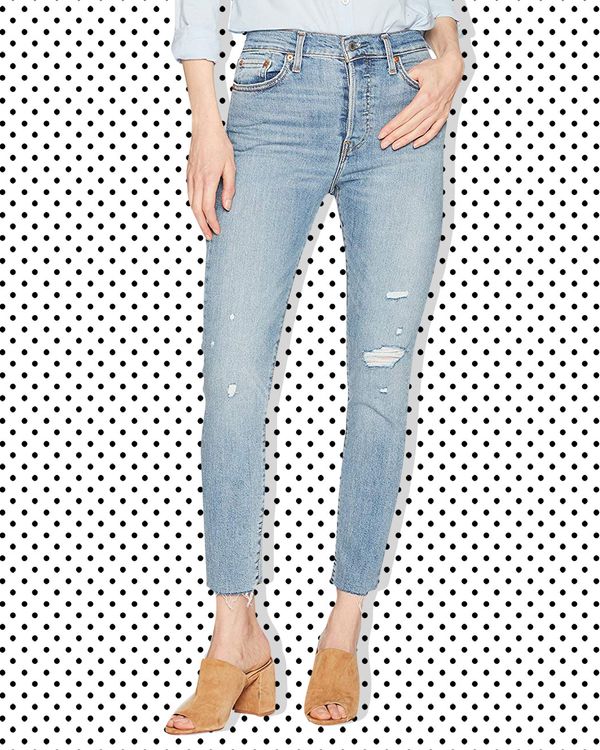 Photo: Courtesy of Amazon
Not only is Amazon Prime Day good for deals on beauty and home décor, but it's surprisingly good if you're shopping for clothes, too. The trick is to go private. The retailer has eight in-house private labels that focus on everyday basics like T-shirts and work dresses, and that's where you'll find the best bargains. Then again, if do you want labels, there are also sales on high-end fashion brands like Tommy Hilfiger, Calvin Klein, and Loeffler Randall, too.
Keep in mind that all of these sales are for Prime members, so if you haven't signed up yet, you'll need to now.
No, you probably don't want to wear a turtleneck right now. But come fall, you'll be glad you stocked up.
It's rare to find a statement coat that also fits your budget.
Can't go wrong with a hot-pink cocktail dress.
Loeffler Randall has a number of good deals for Prime Day, and this gold bootie is one of the best.
If you're going to get combat boots, get them from the king of '90s grunge, Marc Jacobs.
Everyone loves a teddy coat.
Oh, to be the Scandi-chic person who owns this powder-blue cashmere-blend coat.
A waist detail sets this chic little shirtdress apart from the pack.
If you're gonna stock up on basics, they may as well be on sale.
Prime Day doesn't mean just shopping for yourself. Your mom will love this very mom-friendly jacket.
Work pants are a staple in almost everyone's wardrobe. But these, with an ankle crop and sturdy material, may just spill over into your after-work wardrobe as well.
You can wear black jeans all year 'round. And given how trustworthy Levi's are when it comes to quality, these will be well worth the $60.
The adidas 3-stripe legging is a classic that will take you from the couch to the gym and back again.
An elegant take on stripes for any fancy events in your future.
Polka dots are having a moment, but red is a nice twist on the classic black-and-white print.
Everyone needs a little white dress for when they get tired of their little black dress.
The oversize buttons add interest to what would otherwise be a straightforward mini.
This isn't technically a Prime Day deal, but it is a new product launching on Prime Day, and extremely cute for only $39.
The eyelash lace and textured satin elevate a black cami from its "basic" status.
Reviewers praise these jeans for their comfort and ultra-flattering fit.
A fun jumpsuit that you can wear throughout the summer-wedding season.
Made from supersoft leather, these sandals won't leave you limping by the end of the night.
Classic black mules seems like a rare find during Prime Day, and that's partially true — only certain sizes are marked down. But if you're among the lucky, it's a pretty good deal.
A dark floral slip-dress combines two trends. You'll want to wear this for date night, wedding season, or just a fun evening with friends.
This would make for a cool and unconventional wedding dress.
Prime Day is full of basics, but if you're looking for something fun and highly affordable, this is a gem of a find.
Tie-dye is still going strong as a summer trend, and if you're looking for something more muted, this is your tee.
Wear this puff-sleeve top with high-waisted shorts. If you want to go full milkmaid, add a basket bag.
The dress you wear on vacation with a drink in your hand.
This is a very good deal on a cute, highly rated pajama set.
Whew, those are a lot of deals. Don't you wish you had a cozy robe to snuggle in now?
If you buy something through our links, New York may earn an affiliate commission.