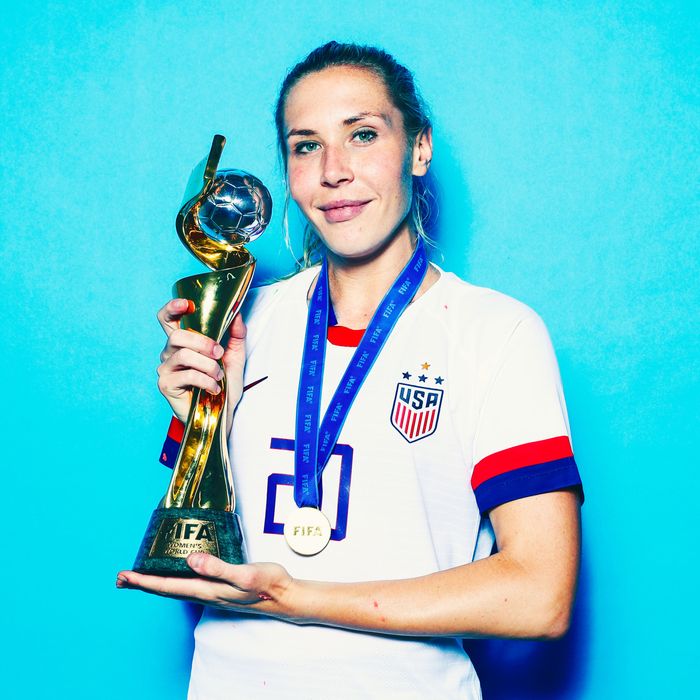 USWNT midfielder Allie Long.
Photo: Naomi Baker - FIFA/FIFA via Getty Images
While the U.S. Women's National Soccer Team was busy celebrating their World Cup win, someone entered midfielder Allie Long's hotel room and stole some of her most prized possessions: her wedding ring and honorary key to New York City.
On Wednesday afternoon, the women's team jetted straight from their ticker-tape parade in Manhattan to Los Angeles, where they accepted the award for "Best Team" at the 2019 ESPYs. Looking at photographs from the award ceremony, the women appear to have been in high spirits, and for good reason. When Long entered her hotel room at Ritz Carlton after the ceremony that night, though, she was forced to pause her celebrating.
"After the @ESPYS show someone stole my wedding ring, cash and the key to my favorite city after just receiving it from my hotel room," she tweeted on Thursday night. "Do you make copies @NYCMayor? I would love a new one." (At the parade, Mayor Bill de Blasio gave honorary keys to the city to the women's team for their World Cup win.)
According to a Los Angeles Police Department spokesperson, authorities responded to burglary call around 2:30 p.m. on Thursday, and concluded that Long and her husband had "left the door to their hotel room slightly ajar," the spokesperson told CBS News. At the time of publication, the LAPD is still reviewing video footage from that night.
Despite everything, Long has remained impressively optimistic. On Thursday evening, she Instagrammed a photo of her and husband with the caption, "Take my ring but not my mans (or medal Thank God)."
And, at the very least, it looks like she'll soon have a replacement key.
"So sorry to hear it, Allie," de Blasio tweeted on Friday morning. "Hang in there. Don't worry about the key. Like any good New Yorker, we keep a spare for our neighbors! We got you covered."