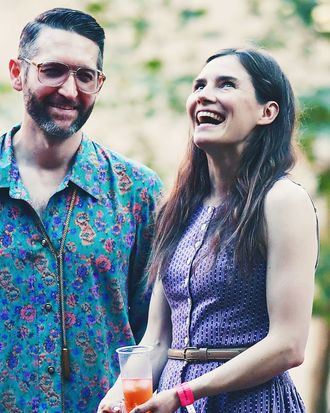 Photo: MARCO BERTORELLO/AFP/Getty Images
Amanda Knox and her fiancé Christopher Robinson have done something impressive and terrifying: they have created the most confusing wedding website in the history of this modern phenomenon.
Knox, who was famously incarcerated then exonerated for the 2007 murder of her study abroad housemate, Meredith Kercher, in Perugia, Italy, announced the landing page on her Instagram today, saying that she and Robinson would be getting married "Oh so weirdly!" From what I've seen, I'd venture that it would be difficult for them not to achieve this goal.
The wedding will be sci-fi themed, it seems, judging from their name for the event: "The Knox Robinson Coalescence." Things get even more inscrutable from there: "No other pre-singularity union produced as much cerebral-empathic heat, or blazed as brightly through the early 21st century datasphere, as the joining of Amanda Marie Knox and Christopher Gerald Robinson," the homepage reads, which, well, sure!
As far as can be discerned, the "Coalescence" was first referenced by Robinson during an elaborate sci-fi proposal he staged for Knox in 2018 (which is helpfully linked to on YouTube in the text of the website). In the video, Knox is sewing the hem of what she calls "a cloak" in what appears to be the couple's kitchen, when a frankly too realistic crash sound occurs outside. After figuring out that some kind of elaborate game is afoot and not an actual airplane disaster, Knox approaches a strange glowing object in the backyard. It's a celestial rock with the text of Robinson's long proposal (it seems to be much of the same text on the website) which Knox reads for a very long time before Robinson proposes, set to the Star Wars theme music. It's one of the nerdiest and most joyful things I've ever seen, and I actually attended rocket camp at the Smithsonian Museum so I feel I can speak somewhat knowledgeably here.
In addition to resurfacing this proposal video for us, the Knox-Robinson wedding website appears to be a crowdfunding event, because the couple had to spend their "wedding funds" on Knox's recent trip to Italy, they say, where she was a speaker at the Italy Innocence Project. "Instead of a traditional registry, we are asking for donations towards the cost of the wedding."
They're definitely going to need some help, because the Knox-Robinson Coalescence will be, according to the categories of their "register," an event that falls somewhere between Burning Man and what future Grimes-Musk nuptials might look like when we they live in a moon colony (the rest of us obviously won't get to go). They will not just need to pay for food, decor, light and sound, but also "paradox props" ("crazy centerpieces that will warp your concept of time"), "costumes" they are making by hand (recall Knox was "sewing a cloak" during her proposal), and "special effects." Supporters will receive a copy of The Cardio Tesseract, the couple's forthcoming joint book of love poems, an excerpt of which is also an appropriate answer to the question, "What the hell is the theme of this wedding?":
But the question is

so thick with mind-meat as to be

an entree needing no dessert