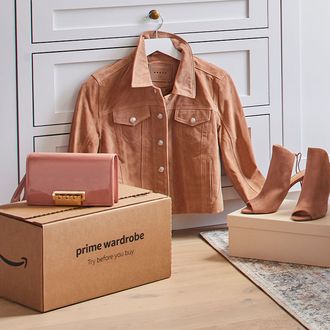 Photo: Courtesy of Amazon
It's easy to get lost in Amazon Prime Wardrobe. With over half a million items, having so much choice can be a little dizzying. But today, Amazon has made things a little bit easier with its new service, Personal Shopper by Prime Wardrobe.
After you fill out a style profile, Personal Shopper gauges your style and fit and feeds you recommendations based on what it thinks you'll like. If you feel that the program hasn't fully understood your taste, you can give it feedback so in the future its picks will be more tailored to your fashion sense.
The recs come from thousands of brands like Calvin Klein, Levi's, and Adidas, and the more you use it, the more Personal Shopper will learn what looks you love.
And the payment part works just like Prime Wardrobe. You choose up to eight items and try them out for seven days. You only pay for what you keep; the rest you can mail back in a resealable box with prepaid label.
Personal Shopper by Prime Wardrobe is $4.99 a month, available via the Amazon app.