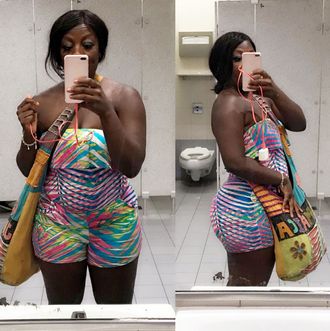 Photo: @tisharowemd/Twitter
American Airlines has apologized for temporarily removing a woman from her flight because flight attendants deemed her outfit "inappropriate" — but only after her tweets about the experience went viral, drawing widespread criticism.
On June 30, Dr. Tisha Rowe, a 37-year-old family physician from Texas, was returning from vacation in Jamaica and had boarded a flight to Miami with her 8-year-old son. She says she was asked to step off this plane, and forced to cover herself with a blanket before getting back on.
Dr. Rowe took to Twitter to describe the experience, posting a photo of the outfit — a colorful strapless romper that was perfect for the warm weather. In a follow-up tweet, she added: "We are policed for being black. Our bodies are over sexualized as women and we must ADJUST to make everyone around us comfortable. I've seen white women with much shorter shorts board a plane without a blink of an eye."
In an interview with KHOU, Dr. Rowe said that the experienced left her "embarrassed" and "humiliated." As the outlet notes, her outfit doesn't violate any of American Airlines attire rules, which simply ban bare feet and offensive clothing.
"If I, being Leticia Rowe, was a white woman in that same body suit, if they thought it's inappropriate, do I think they would have removed that white woman from the plane?" she said. "Absolutely not."
In a statement on Tuesday, American Airlines apologized to Dr. Rowe and said they had reached out to her directly. "We apologize to Dr. Rowe and her son for their experience, and have fully refunded their travel," the statement read. "We are proud to serve customers of all backgrounds and are committed to providing a positive, safe travel experience for everyone who flies with us."
An American Airlines spokesperson also told CNN that the airline plans to hire a chief inclusion and diversity officer.