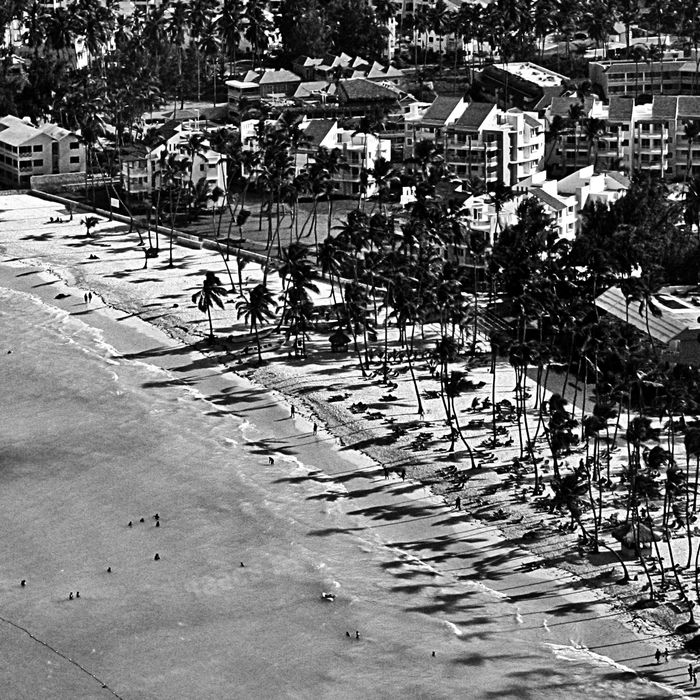 Punta Cana, Dominican Republic.
Photo: Abner L. Teixeira/Getty Images
In early June, media outlets started to pick up on a worrying trend coming out of the Dominican Republic: Americans are mysteriously dying while on vacation. According to original reports, three people — all of whom were staying in the same resort area — had died since April. In the weeks since, that number has increased. On June 10, the U.S. State Department confirmed that, weeks before the three reported incidents, another American had suddenly died in the country — a revelation that sparked an FBI investigation into the four suspicious deaths. Recently, additional revelations have emerged that at least six other Americans have recently died, bringing the total number of mysterious deaths to at least nine — and that's if you're only looking at the past three months.
Are the deaths connected? Is there reason to be concerned? Below, here's everything we know so far.
Every death in the Dominican Republic so far
Let's walk through them chronologically.
April 14: On April 14, Robert Bell Wallace, 67, "passed unexpectedly while vacationing," according to his obituary. In an interview with Fox News, Wallace's niece shared more details: Her uncle, who had been staying at the Hard Rock Hotel & Casino, became critically ill after consuming a drink from his hotel room's minibar three days before his death.
"We have so many questions," Chloe Arnold said, adding that the family still doesn't know the cause of Wallace's death. "We don't want this to happen to anyone else."
April (specific date unclear): In mid-June, TMZ reported that John Corcoran, brother of Shark Tank's Barbara Corcoran, died from a heart attack in his hotel room earlier this year. While the death is suspicious due its similarities with the others, Corcoran's family believes that he simply died of natural causes, as he reportedly had existing heart conditions.
May 25: The same day she arrived at the Luxury Bahia Principe Bouganville hotel in La Romana, Miranda Schaup-Werner, 41, died of a heart attack after having a drink from her room's minibar, the New York Post reports. (Per her husband, Schaup-Werner did suffer from heart problems.)
May 30: Just days after checking in to the Playa Nueva Romana hotel, Edward Nathaniel Holmes, 63, and Cynthia Ann Day, 49, were found dead in their hotel room after suffering from respiratory failure brought on by pulmonary edema, CNN reports. Per the New York Times, the FBI is investigating these deaths the most closely.
June 10: After the FBI announced its intention to investigate the deaths, another American died: Leyla Cox, 53, of Staten Island. According to local outlet SILive.com, Cox was on vacation for her birthday when she died suddenly of a heart attack in her hotel room. It is unclear which resort at which she was staying.
June 13: The seventh person to mysteriously die was Joseph Allen, 55, of New Jersey. According to Allen's family, a maid found Allen dead on the floor of his hotel room at the Terra Linda Resort in Sosua, they told NBC News. (The state department has confirmed the death but not yet revealed the cause.)
June 17: According to Long Island's News 12, former pizzeria owner Vittorio Caruso, 56, died at a hospital in Santo Domingo. According to the country's Attorney General's office, a preliminary autopsy showed that Caruso died from respiratory and heart failure, per CNN. Reportedly, Caruso had long suffered from related health problems.
June 18: The latest death is that of Susan Simoneaux of Louisiana, who was celebrating her recent marriage to Keith Williams in Punta Cana. While Simoneaux reportedly didn't come down with any bug during the trip, one week after the couple returned, she was rushed to the hospital with fluids in her lungs. In an interview with WWLTV, Williams said that they were not aware of the prior deaths, adding, "I would have never went if I would have known."
And those are just the deaths in the past few months. Per the New York Times and other outlets, the number of American deaths increases to at least 12 if you include those from 2018. In April of that year, Chris Palmer, 41, was found dead in his room at the Villa Cocotal Palma resort in Punta Cana; in May, Donette Edge Cannon, 38, mysteriously died of kidney failure while staying in the Sunscape Bávaro Beach Punta Cana; in June, Yvette Monique Sport, 51, died of a heart attack after having a minibar drink in her room at a Bahia Príncipe resort; and in July, David Harrison, 45, mysteriously died from pulmonary edema at the Hard Rock Hotel & Casino.
There have also been recent reports of people becoming seriously ill while vacationing in the country. In early June, Bachelor star Melissa Rycroft came down with a mysterious stomach bug while on vacation. Two weeks later, WFLA reported that 47 Jimmy Buffett fans who went to Punta Cana in April become violently sick after going in the swim-up pool at Hotel Riu Palace Macao and/or drinking from the swim-up bar. "When all was said and done, I lost 19 pounds," one member who became ill told the outlet. "I'm just grateful to be alive at this point."
Why are people dying in the Dominican Republic?
As of now, it's unclear. According to the New York Post, though, local authorities are currently investigating whether bootleg liquor laced with anti-freeze could be the culprit. In an earlier interview with the Times, Dr. Tom Inglesby, the director of the Johns Hopkins Center for Health Security said the Americans' similar symptoms are "consistent with poisoning."
"It's rare for travelers to die of unknown causes like this, and to have a high number of them in a relatively short period of time is alarming, shocking, sad," Inglesby told the Times. "It's something that investigators should be able to get to the bottom of."
However, experts, news outlets, and Dominican officials are increasingly accusing the media of drumming up panic over a string of deaths they argue aren't connected. "The dozen deaths reported this month represent at most a tiny fraction — just a few percent — of all the ones that would be expected to occur in any year of U.S. travel to the Dominican Republic," journalist Daniel Engber writes in Slate. "They do not compose a 'trend,' 'spate,' 'string,' 'cluster,' or any 'mystery' to speak of."
Furthermore, in an interview with the Washington Post, Rutgers University medicine professor Reynold A. Panettieri said that travelers should not write off the country as dangerous; instead, they should focus their concern on the hotels where people have died.
"It would be quite rare to recommend that people avoid the Dominican Republic," he told the Post.
So the FBI is investigating?
On June 5, before revelations of Wallace's death, the Bahia Principe Hotels & Resorts — which owns the hotels where Schaup-Werner and the couple died — released a statement saying there are "no indications of any correlation" between the first three deaths to be reported. However, a state Department official told the Washington Post the FBI is partnering with authorities in the Dominican Republic to provide "technical assistance with the toxicology reports" concerning the four most recent deaths. (Per the Times, the toxicology reports are due out in mid-July.)
On June 30, senator Chuck Schumer also asked The Bureau of Alcohol, Tobacco, Firearms and Explosives to assist the FBI in their investigation. "Given that we still have a whole lot of questions and very few answers into just what, if anything, is cause for the recent spate of sicknesses and several deaths of Americans in the Dominican Republic, the feds should double their efforts on helping get to the bottom of things," he said in a statement.
Is there an official travel warning for the Dominican Republic?
No. Paola Rainieri, president of the Dominican Republic Hotels and Tourism Association, recently stressed at a news conference that the DR is "a safe destination," and that the media has exaggerated the "trend" — a stance the U.S. government has seemingly taken, as well.
"We have not seen an uptick in the number of U.S. citizen deaths reported to the Department," an official with the State Department told the New York Times.
But still, some people have been so alarmed by the reports, they have postponed or cancelled their upcoming trips to the country. Most recently, singer Rick Springfield announced that he was going so far as to cancel his concert in Punta Cana, scheduled for this November.
"In an abundance of caution and for the peace of mind and well-being of my fans, band and crew, the 'Rick Springfield & Friends' event in Punta Cana is being rescheduled to take place at Hard Rock Hotel Cancun in 2020," he wrote on his social media channels on July 1. "New dates will be determined as soon as possible. We hope to have this announcement within the next two weeks."
This post has been updated.