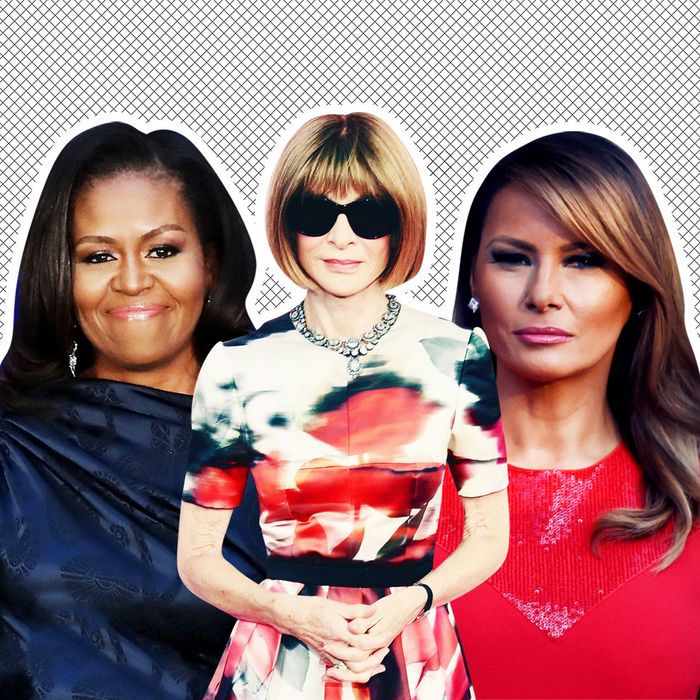 Michelle Obama, Anna Wintour, Melania Trump.
Photo: Getty Images
Some trends are cyclical, while others never appear to go out of style. First Ladies, being serial, don't abide by this formula, but perhaps given Anna Wintour's recent comments it's time to reconsider.
During a recent interview for The Economist's podcast the storied Vogue editor politely (as is her fashion) declined to acknowledge that Melania Trump is our First Lady, preferring instead to insist that Michelle Obama still sort of is, in the sense that she's the one Wintour almost certainly wishes were residing in the White House.
In a clip from the interview that went viral, The Economist's Anne McElvoy asks Winter to comment on Melania's wardrobe, pointing out that there is "something so visual about the Trumps" and positing that the First Lady is better dressed than her husband. To this, Wintour replied, "Well, I think First Lady Michelle Obama was really so incredible in every decision she made about fashion. She supported young American designers. She supported designers, indeed, from all over the world. She was the best ambassador this country could possibly have, in many ways, obviously way beyond fashion —"
McElvoy cut in here to persuade ever-so-gently, "But she's not the First Lady now. What about the one you have now?"
"And for me, she is the example I admire," continues Wintour, completely unmoved by The Economist's entreaties.
This was the second Melania deflect of the interview. Out reported on Sunday that Wintour was also asked if the relative lack of Melania content in Vogue's magazine and on its website is "a conscious decision." Wintour replied:
"There's so many women in politics that deserve celebration, whether it's Kirsten [Gillibrand] or Senator Harris, or Senator Warren. We just recently ran a piece in our current issue about five of the six political female candidates, all of which I felt deserved a place in Vogue. And how wonderful that after a lot of naysayers saying that after [Hillary Clinton] not succeeding that it would be very difficult to find a voice in the current presidential campaigns. How wonderful that that is not the case. I think that both Senator Warren and Senator Harris are among the top candidates right now."
This isn't the first time Wintour has hinted at excluding Melania from her narrative. In April, during an interview with CNN's Christiane Amanpour, Wintour was asked why she features more Democratic politicians than Republican ones, to which she said:
"If you're talking about the first lady [Michelle Obama] or Senator [Kamala] Harris, obviously these are women that we feel are icons and inspiring to women from a global perspective. I also feel even more strongly now that this is not a time to try — and I think one has to be fair, one has to look at all sides — but I don't think it's a moment not to take a stand … I think you can't be everything to everybody and I think it's a time that we live in a world, as you would well know, of fake news … [and] those of us that work at Conde Nast believe that you have to stand up for what you believe in and you have to take a point of view."
Given that Michelle Obama was featured on three covers and Melania Trump has yet to receive a single one since her husband was elected, the First Lady saw fit to respond. Her rep fired back in a statement, "To be on the cover of Vogue doesn't define Mrs. Trump, she's been there, done that long before she was first lady." (Melania appeared on the cover of Vogue in 2005, on the occasion of her marriage to Donald Trump.)
Wintour's comments in this latest interview aren't a bad strategy for dealing with incessant questions about Trump. Or at least it's certainly a good way to avoid having to comment on the first family directly. Is silence shade? So long as "I don't know her" is in style, it could be.