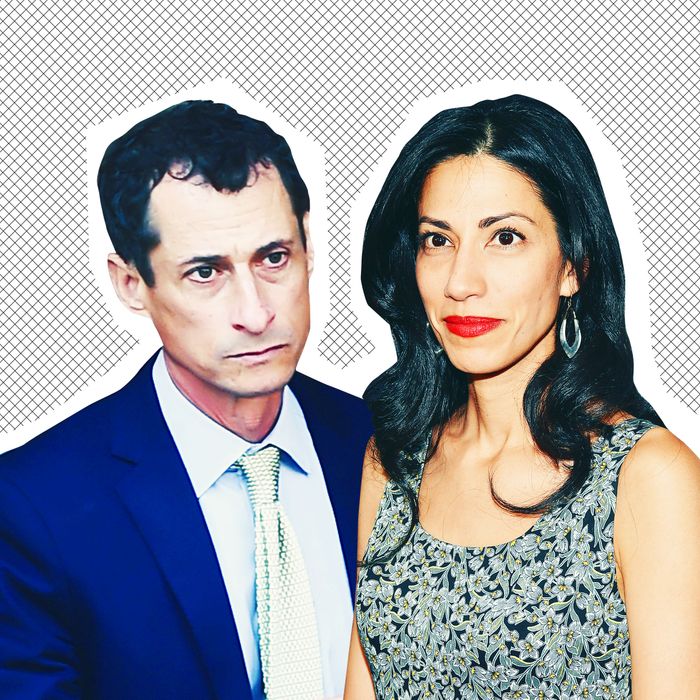 Over the weekend, photographs surfaced of Anthony Weiner standing outside estranged wife Huma Abedin's Manhattan apartment building with luggage, boxes, a suit bag, and a countenance of becalmed misery in tow. Were the boxes headed into the residency or being shepherded away?
Though Abedin filed for divorce the very day Weiner pled guilty to sexting a 15-year-old girl, in May 2017, the process hasn't yet been finalized. In May, Weiner was released from prison after serving 18 months for transferring obscene materials to a minor; now, conflicting reports indicate he's either finally moving his belongings out of Abedin's apartment, or taking up residence down the hall from his estranged wife and their 7-year-old son.
After the ambiguous moving photos began circulating in tabloids earlier this week, People reported that the disgraced former congressman and convicted sex offender is in no way shape or form getting back together with his ex. A friend of the couple said with conviction, "They are most certainly not back together." They asserted, "Those were not boxes going in. They were old boxes going out."
And yet the New York Post — which has trailed Weiner for dirt like no other, incessantly, for years — reported that Weiner is in fact moving just down the hall from Huma. Weiner has reportedly rented a small apartment on her floor, a studio or a one-bedroom. One clear-eyed resident, upon being asked by the Post how she felt about Weiner moving in, responded:
"Do I feel comfortable with him being in the same building? I don't know. There is a man that walks a pig everyday in the neighborhood … Now we have two pigs."
To confuse matters further, The Daily Mail reported in a photo caption accompanying an image of Weiner and some possessions reads, "Weiner was seen rolling boxes and designer garment bags into Huma's apartment over the weekend. Weiner didn't have any help as he used a trolly to cart in his belongings, wearing a white tank top, shorts, and sneakers as he made several trips inside the building."
I don't much care where Weiner lives; I only hope his cellphone privileges have been permanently revoked.