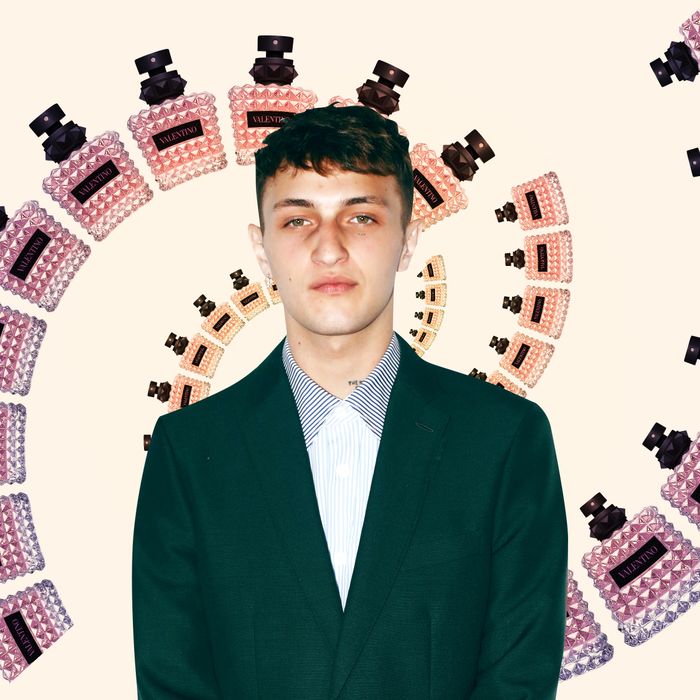 Call it the Proust effect: Memories are often triggered by smells. Scientific studies confirm that, of all the senses, smell offers the best recall. In Scent Memories, the Cut asks people about the scents they associate with different times in their lives. Next up is Anwar Hadid; model, brother of fellow sibling-models Gigi and Bella Hadid, and one of the model faces of Valentino's new Born in Roma fragrance with fellow model Adut Akech. Housed in bottles of Valentino's signature rockstud spikes, Born in Roma comes in two remixes of the historic city it's inspired by: Donna, a warm blend of vanilla bourbon, jasmine, and pink pepper, and Uomo, a spicy mix of sage, smoked vetiver, and salt, that will launch later this fall. The Cut caught up with Hadid to talk massive candles, warm cookies, and the best way to whip up pesto pasta. 
My first scent memory is: Probably rose and lemon; something classy that I would always smell around the house.
Happiness smells: Fresh, like the beach.
Love smells like: Roses. And I know I just said that, but roses. Definitely roses. And the smell of rain.
Friendship smells like: Warm chocolate chip cookies.
Success smell like: Truffle sauce.
Vacation smells like: Coconut and pineapple. And fruits. I'm so boring [laughs].
Sunday morning smells like: Pancakes and raspberries.
Monday morning smells like: Coffee. Any kind. I'll go to Starbucks and be like Yo, give me anything you have. Anything. 
My home smells like: Eucalyptus and cedarwood. It's this candle my homie got for the middle of my house — it's just this big candle, like a huge one. It's massive and has like five wicks. It's actually one of the biggest candles I've ever seen.
My favorite food smells like: A homemade pasta. Homemade and love-induced, you know? That's fire … pesto pasta! When me and my friends whip it up, we do the little shells and put a little Parmesan cheese in there. Some sun-dried tomatoes, some parsley … or whatever. I made that up. We don't put the parsley. Some day I have to do that though: Put a green in there, and mix it up. Perfect pesto pasta. Really easy.
If you buy something through our links, New York may earn an affiliate commission.