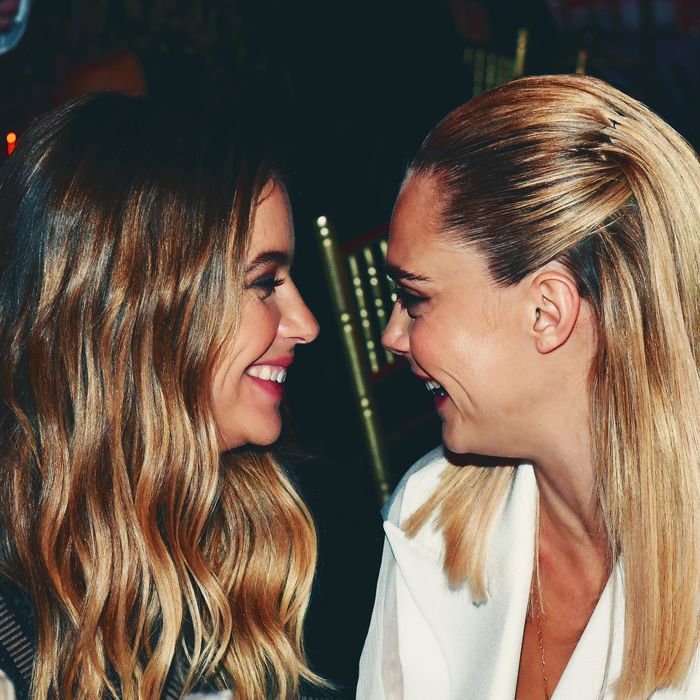 Ashley Benson and Cara Delevingne.
Photo: Craig Barritt/Getty Images
Not even a year after Cara Delevingne, 26, and Ashley Benson, 29, became the subject of dating rumors after they were photographed kissing at Heathrow Airport, fans are already speculating that the couple has reached a major relationship milestone: getting engaged.
This past Monday, when the couple was photographed on vacation in Saint Tropez, dedicated fans noticed that both women were wearing matching bands on their ring fingers. Naturally, jubilant speculation about their potential engagement ensued on Twitter.
"ashley benson and cara delevingne got engaged, we won again gays," one person tweeted. Another wrote of the rumors, "can you hear me crying!?!?!?" with a heart and crying emoji.
Though countless people on Twitter are treating the rumors as fact, to be clear, the couple has not confirmed that any sort of proposal went down. And to their fans' disappointment, it's unlikely we'll know one way or another for quite some time. Over the past year, the couple has been photographed making out all around the world — and was even caught carrying a $400 sex bench together — and yet, it wasn't until last month that they officially announced that they've been dating. When asked by E! News why she waited until June of this year to finally confirm what was utterly obvious, Delevingne responded, "I don't know because it is Pride, it's been 50 years since Stonewall happened … It's been just a bit over our one year anniversary so, why not?"
But in that spirit … can't they also confirm whether or not they're engaged?