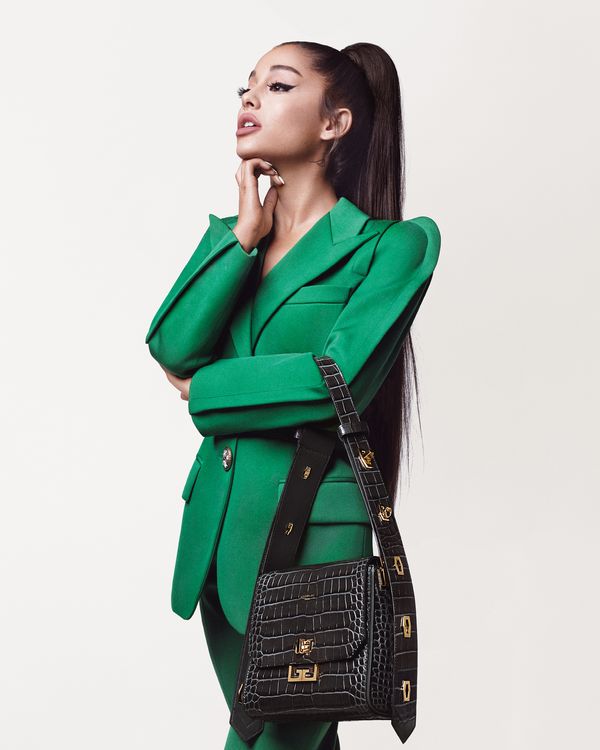 Photo: Craig McDean/Courtesy of Givenchy
Like most successful pop stars, Ariana Grande has an identifiable image. Until now, it has included high ponytails, baggy tops, and tall boots. Maybe the occasional lollipop. Her image was so recognizable, if you wore all of the above on Halloween, people would immediately know who you dressed up as. But ever since becoming the face of Givenchy, Grande seems to be interested in a new, more sophisticated look.
On Monday, the French fashion house, lead by designer Clare Waight Keller, revealed a new campaign image featuring Grande wearing an emerald-green suit from the fall 2019 collection. It has elevated, sharp shoulders that evoke medieval armor more than '80s power uniform, as Grande folds her arms and lifts her chin up, like a real thinker.
Recently, we've seen a lot of suits both on and off the runway. The United States women's soccer team, for example, wore glorious, run-me-over-level deep-V suits to the ESPY Awards last week. The trend arguably (read: hopefully) marks a more general shift away from sneakers and streetwear. For Grande, who is being billed by Givenchy as a modern-day Holly Golightly, this change in uniform might also mark a personal shift: She wants to be taken more seriously, both as both a person and an artist.
At the Cut, we like call this a Suit Journey, and will henceforth be on Ariana Grande Suit Watch. More, please!