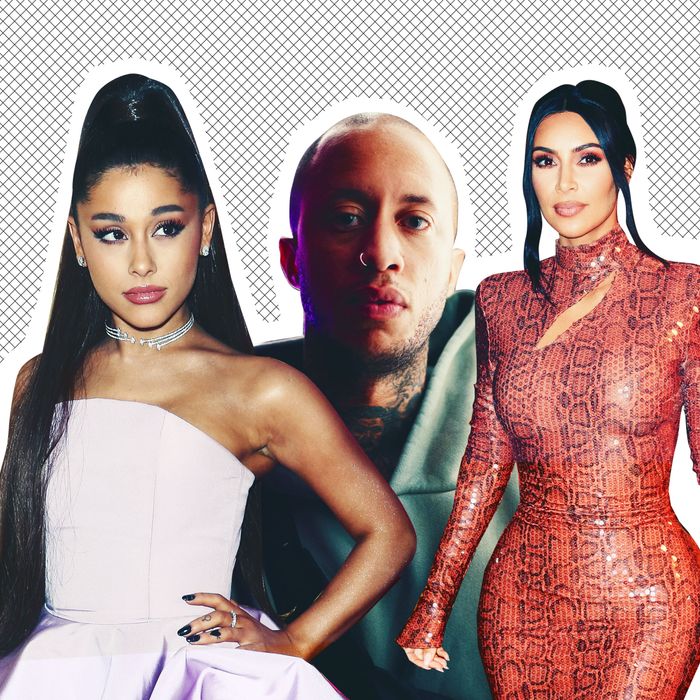 On Monday, Ariana Grande seemed to respond to allegations that celebrity photographer Marcus Hyde, who shot her in September 2018 in London, tried to solicit nude photos from a model in exchange for work; in an Instagram Story, she referred to hearing "shocking and heartbreaking stories," and wrote she was sorry that models had uncomfortable experiences. The following day, Kim Kardashian West — who has worked closely with Hyde herself — put out a statement of her own, referencing allegations of "inappropriate and inexcusable" behavior from a photographer she had worked with in the past. Neither named Hyde directly.
The accusations against Hyde first emerged on Sunday night. According to Diet Prada, a popular fashion-community Instagram account, Hyde had posted an Instagram Story asking if anyone wanted to shoot with him — a practice that's not unusual in the modeling and photography industries. When an L.A.-based model and interior-design student named Sunnaya responded to the request over DM, Hyde apparently requested nude photos of her in advance working together. "Gotta see if your [sic] worth it" he wrote to her, according to a screen-grab of the conversation she posted on her own Instagram Story, which has since been removed for violating the platform's "community guidelines." She refused, and he then requested that she pay $2,000 instead in order to shoot with him.
After Sunnaya posted their conversation to her story, Hyde allegedly replied, "Suck a fat big dick." (He has since deleted his account.)
In the wake of their interaction, Sunnaya started collecting anonymous stories of Hyde's alleged abuse on her Twitter account. Anonymous users have accused Hyde of showing them unwanted dick pics, groping models, and nonconsensual photo taking, among other things.
And as these stories began circulating, Grande took to her own story to caution against predatory photographers, although she did not use Hyde's name specifically. She wrote: "Please do not shoot with photographers who make you uncomfortable … if they tell you you have to pay more money if you're clothed that's fucked and I'm sorry that has happened to you."
On Tuesday afternoon, Kardashian broke her silence on the Hyde accusations. (She and Hyde seem to have been quite friendly: After the photographer got into a car crash in October 2018, Kim and Kanye donated $25,000 to help him with medical expenses. Kim also posted a link to his GoFundMe, which crowdfunded $29,360, according to "Page Six.")
On her Instagram stories, Kardashian wrote: "My own experiences have always been professional, and I am deeply shocked, saddened and disappointed to learn that other women have had very different experiences." She went on to write that she is in "full support of every woman's right to not be harassed, asked or pressured to do anything they are not comfortable with. We cannot allow this type of behavior to go unnoticed and I applaud those who speak out."