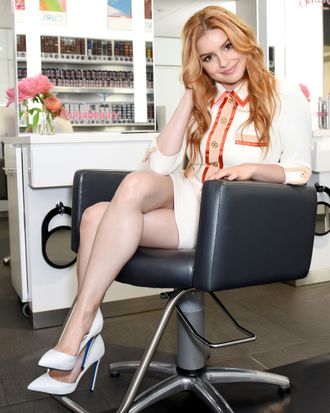 Photo: Presley Ann/Getty Images for Ulta Beauty
Ariel Winter is known for playing Alex Dunphy on Modern Family, and Alex Dunphy is known for wearing the same dark hair in every episode. But in real, non-TV life, Winter enjoys playing around with the naturally dirty blonde hair on her head by switching up the color (magenta, red, a variety of wigs) and style (shaggy layers, very good waves, more wigs) whenever she can.
All of this experimenting has led Winter to become the poster child for blowouts — specifically Ulta Beauty's new blowout service, which offers five different styles at Ulta's in-store salons for $35 a pop. The Cut quickly caught up with Winter before the launch event to talk animated mermaids, on-set hairstyling, and Peach Rings. Here are seven things we learned.
1. It's a happy coincidence that she and the animated Ariel have the same hair.
When asked if Disney's half-fish, half-person princess inspired her recent decision to go red, Winter says it was more born out of an itch to drastically switch things up in general. "Typically, I experiment with my hair a bunch, and like to change it up multiple times. I hadn't done anything in a year and a half, so I really wanted to try something new; I just didn't know what." Eventually, Winter and colorist Tabitha Dueñas decided on a "copper tone" (rather than an animated red), Tim Dueñas gave her a shag, and the "Part of Your World" Instagram captions just flowed organically from there.
2. But she'd like to go Khaleesi next.
Winter is a huge fan of her current color (it's her favorite yet), but she's a bigger fan of hair changes and she'd like to turn it up a notch next time you see her. "I want to try really, really white, platinum hair, which I've never done before. I probably won't try it for a minute though. But it's definitely something on my list." If you're feeling similarly, here's some summer reading to catch up on first.
3. These weren't real bangs, by the way.
As a hair chameleon who likes to make changes, surely she's thrown bangs into the mix. I asked Winter if she ever misses her headline-making 2017 bangs from the Critics' Choice Awards, and she informed me that she doesn't, really, because she never really had them. "Those were clip-ons!" she tells me. I'll give you a moment to digest.
4. Alex Dunphy makes getting ready a breeze.
A lot of effortless-looking onscreen and red-carpet hair takes professional amounts of effort, but Alex's hair mostly requires showing up. "My getting-ready time on set is almost as short as the boys'," Winter explained. "I basically just wash it and let it air dry. By the time I get there, my hair's already dry, and it's already as straight as can be. I probably have the shortest getting-ready time of everyone."
5. Which leaves more time to ignore Instagram.
Winter's been known to deal with the army of trolls camped out in her comments by straight-up confronting them. These days, she's dealing with the everyday soul-sucking reality by switching up her strategy. "It's been a journey, that's for sure. I used to get so mad, but as I've gotten older, I'm trying to be more positive and just look on that other side instead of focusing on all the negative." Her tips for handling haters: "I also try to look at Instagram less, way less, in general, and just gloss over it. If I'm reading something and the first part is not nice, I just skip. Next."
6. She can sleep anywhere.
Winter is staunchly pro-nap, but anti-bedtime in that the bedtime does not exist. Any time can be your bedtime if you believe it can. "I've never had a schedule where I have to go to bed at a certain, set time. But I could personally go to sleep at any time. Seriously, I could go to bed at 6 p.m. or 9 p.m. or 4 a.m., doesn't matter."
While famous people tend to answer the provocative "What's your favorite snack?" question with items that gesture toward health, Winter is proud to champion what we all really want at the end of the day. "I go through weird phases of liking different things, but it's almost always candy. I had a big Peach Rings phase and a Hot Tamales phase. Right now, I'm really into mint chocolate-chip ice cream. I have six different mint chocolate-chip ice-cream brands in my freezer right now."