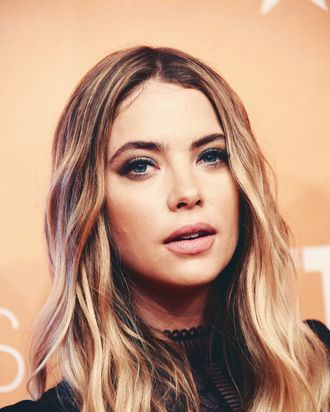 Ashley Benson.
Photo: Gary Gershoff/WireImage
Perhaps Ashley Benson hasn't yet made a legal life commitment to Cara Delevingne, but it appears that she has pledged her lasting love to her girlfriend in a legitimately much more permanent way: getting a tattoo inspired by her.
On Monday, in an Instagram post, Benson announced her new collection with Privé Revaux sunglasses, and asked her followers to go to the link in her bio. But instead, fans zoomed in on the photo of Benson, in which she's wearing the sunglasses and a white tank top, to investigate a tiny tattoo on her ribcage. From far away, and at first glimpse, it almost looks like a heart. If you look closely, though, it becomes clear: It's the letters "CD."
I wonder … what that … could mean …
It doesn't stop there. As fans were flooding Benson's Instagram comments with sweet messages like "I spy caras initials!" and "Omg her tattoo," outlets like Harper's Bazaar and Delevingne fan accounts reported that Delevingne also has a tattoo of an "A" in the same place on her ribs, suggesting that Benson wasn't the only one to ink her body with her girlfriend's initials. What's still unclear, though, is when either of the women would've gotten the (allegedly) matching designs. While this is the first time we've seen Benson's tattoo, the photos of Delevingne where her "A" tattoo is ever-so-slightly visible date back to the TrevorLIVE Gala this past June. Hmm.
What a long way this couple has come in their year-plus of dating! Remember when we all freaked out over Benson wearing a "C" necklace, long before the couple confirmed they were A Thing? To think we — and this relationship — were ever so young. But to go back to the secret engagement rumors: Are we really sure those aren't true?