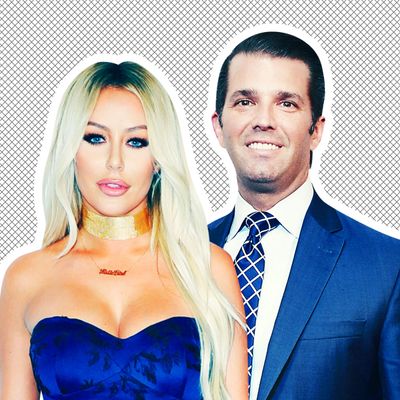 Here it is, your semi-annual reminder that former Danity Kane singer Aubrey O'Day and large Trump son Donald Trump Jr. reportedly were once an item. Almost nine years ago, they allegedly began an affair that blossomed on the set of The Celebrity Apprentice — what a simpler time it was! — and apparently, O'Day is still holding on to those memories.
We know this last thing to be true, or apparently true-adjacent, since O'Day is currently starring in the third season of the MTV reality show Ex on the Beach, which premiered on July 16. TMZ reports that while filming the show, O'Day has been talking about her past relationship with Junior; specifically, she's been openly discussing her continued love for the Trump son on camera and expressing her desire for him to break up with his current girlfriend, Kimberly Guilfoyle, whom she apparently refers to as "crazy looking." The tabloid also says that O'Day remains "convinced that the president's son is her soul mate."
In a follow-up interview with People two weeks later, O'Day confirmed that she had called Donald Jr. her soul mate, and insisted that he had once felt the same way about her. "It was something we spoke about often," she said. "A soulmate is someone you spend a period of time, moment, of life with that you're connected as one. I had that with Don."
To review: Donald Jr. and O'Day's alleged star-crossed love began during season five of The Celebrity Apprentice in 2011 and reportedly ended in March 2012, after Donald Jr.'s then-wife, Vanessa, found emails between the two — though neither O'Day nor Donald Jr. has ever publicly confirmed the relationship. The singer has left a string of unsettling clues though: She posted a not-so-subliminal tweet in June 2012, writing, "I know u, they never will."
She is also rumored to have written a song about him — titled, revealingly, "DJT." Its most striking lyric goes: "I hate me for loving you, hate you for letting our love die." And then there is … this foot pic. (While no one has ever confirmed that these feet belong to either O'Day or Donald Jr., it raises significant questions.)
Soon after the affair allegedly ended, O'Day told Us Weekly about what she looks for in a man: "I like strong men that usually have big egos … which is also why we break up. I like a man that can be in a room with anyone and feel more powerful and more in control."
It's hard to imagine Donald Jr. as strong, but I can easily believe the big-ego thing. It's also difficult to imagine wanting to touch feet with him, but everybody's different. And to her credit (sort of?) O'Day now says "the person he is now, that's not the person I fell in love with."
This post has been updated.