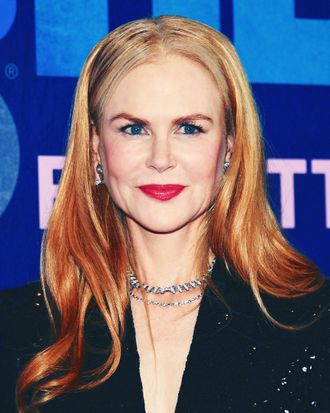 Photo: Dia Dipasupil/Getty Images,
Nicole Kidman is known for being pale. In addition to being an Oscar winner and a multiple-time Golden Globe–award winner, she has the honor of being the celebrity most likely to appear in a roundup of "pale celebrities." Wikipedia lore even suggests that as a teen studying acting, she was forced to rehearse inside all the time due to her delicate complexion.
This all makes Kidman the ideal spokesperson for Neutrogena's sunscreen. Before attending Zoë Kravitz's wedding with her fellow Big Little Lies colleagues, she talked to the Cut about her relationship with SPF.
As a pale person in Hollywood, have you ever felt pressured to be tan?
My own skin doesn't really tan. I really have never tanned. Even as a child, I never did it. Now, I'm so glad because it really saved my skin. It's just not part of what I do.
For characters, I'm grateful that I can fake tan. Or I can self-tan. Sometimes I'll put a little on my legs, because it can look better if I have a bit of color. Sometimes I will do a spray tan, which always looks a bit weird. But really, the thing I've learned is the need to protect your skin. Not just for the beauty aspect, but for skin cancer safety. It's so common now.
Do you really and truly wear sunscreen every single day without fail, even on set?
Yes and yes, even on set. I reapply all the time. I was just shooting outside last week. It was almost 100 degrees in NYC. I was out in the sun all day from beginning to end. I reapplied SPF 100-plus, which is crazy, but I didn't get burnt once. I use the Ultra Sheer Sunscreen Broad Spectrum SPF 100+. It goes beautifully under makeup because it's dry touch.
My makeup artist is like, I love this stuff. I even taught her about how you have to reapply every two to three hours. It's amazing how a lot of people don't know that. And yes, I put it on over makeup. Because it's sheer touch, it doesn't smudge as much. I put it on and then we reapply makeup over it.
Do your colleagues notice your sunscreen diligence? It's rare to see people that vigilant about it.
Everyone. They're like, Oh my god. But my skin doesn't have the damage a lot of people have.
At this point in your career and life, how do you navigate Hollywood beauty standards? 
As an actress, it's about how you become a character. You have to be adaptable. You have to play all different ages, nationalities, and socioeconomic backgrounds. The ability to morph and change is important to me. I'm not interested in playing myself.
And I don't go look at comments. I have my head in the clouds a little bit. I know that sounds a bit dreamy. But otherwise, it's too much. Even on a film set, I don't go and watch the monitor. Some people do, but I don't like doing that. I don't like being too self-aware. I prefer a little abandonment.
Do you find the idea of aging to be scary?
Don't you want to be around as long as you can? I do, and I have young children. We all age — that's the trajectory of our lives. I believe in trying to stay present and putting out the best version of who you are and being happy. For me, that definition is feeling good about myself, my family, and what I am contributing to the world. It means being in the world as a participator and not a voyeur.
If we feel good, we do good. I'm very fortunate. I have a partner who is loving and acknowledging. We're both dedicated to growing old together, which is a lovely thing to have. My young kids are always telling me, "Come on, Mom! Do a cartwheel!" And there's nothing like doing a cartwheel with a 10-year-old to feel joy. We go to the beach and they get me in the surf. I have to be out there doing things with them. That's my joy.
If you buy something through our links, New York may earn an affiliate commission.