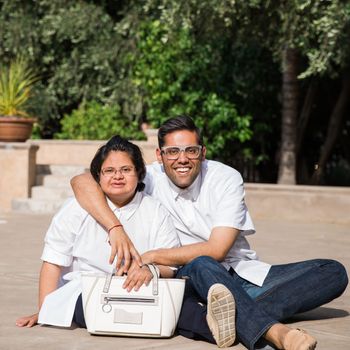 Shivam and Nirali "Nini" Punjya
Photo: Courtesy of Behno
We're all tired of the fashion industry's narrow focus on thin white women. Lately there have been signs of a paradigm shift for people of color and people of all sizes. So why not for people with disabilities?
Leather accessories brand Behno (which means "sisters" in Hindi) released a capsule collection benefiting the National Down Syndrome Society. The brand's founder, Shivam Punjya, designed a new tote called the Nini, inspired by his sister, who has Down syndrome. Nini is a "self-proclaimed movie aficionado" who carries her portable DVD player with her everywhere, so the design of the eponymous bag allows her to carry all of her knickknacks in a very fashionable way. Apart from the Nini tote, the capsule features the brand's classic styles in the NDSS' official color, red. Plus, it's all made ethically: Behno is dedicated to sustainability and to ensuring ethical conditions and fair wages for its garment workers in India.
Prices range from $275 for the Nini tote to $625 for a sizable bright red leather bag. Twenty percent of all sales will be donated to further the work that NDSS does to support people with Down syndrome in enhancing their quality of life, realizing their dreams, and becoming valued members of society. Shop some of our favorites below or the entire collection here.
If you buy something through our links, New York may earn an affiliate commission.