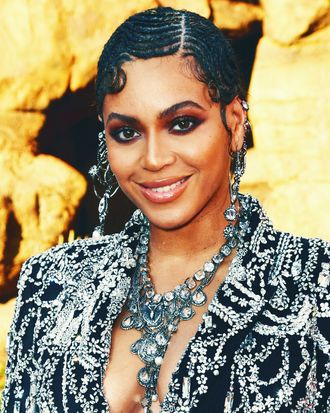 Photo: Kevin Winter/Getty Images
Anytime Beyoncé shows up anywhere, it's kind of a big deal, especially if she's wearing braids. For last night's red carpet premiere of The Lion King, in which Beyoncé plays Nala, she not only showed up, but she showed up in a new set of braids it appears the public has never really seen before, on the singer or otherwise.
The style was created by Beyoncé's hairstylist Kim Kimble and is currently being dubbed "finger wave braids," because the only way to describe the style is a cross between vintage, pin-curled finger waves and cornrows and braids. Behold:
Kimble's combination of a side part, skinny S-shaped partitions, braided swirls, all bound by a super chill low-ponytail in the back is reminiscent of the braided finger waves Amandla Stenberg wore to the Oscars this year, but looks even more painstaking to create. It's quite the feat, not only because it looks very hypnotizing, but it seems to be a New Hairstyle, a species that's severely endangered in the year 2019.
If you're curious about what the internet thinks about this all, some people really hate it, while others think it's very good and very Josephine Baker (but in 2019 instead of the 1920s, and tied to lions, not a pet cheetah.) You be the judge! In adorable news, Beyoncé's daughter Blue Ivy continued the vintage/braided theme with her look, too, wearing braids styled in an undeniable nod to another historic female icon, Sailor Moon.