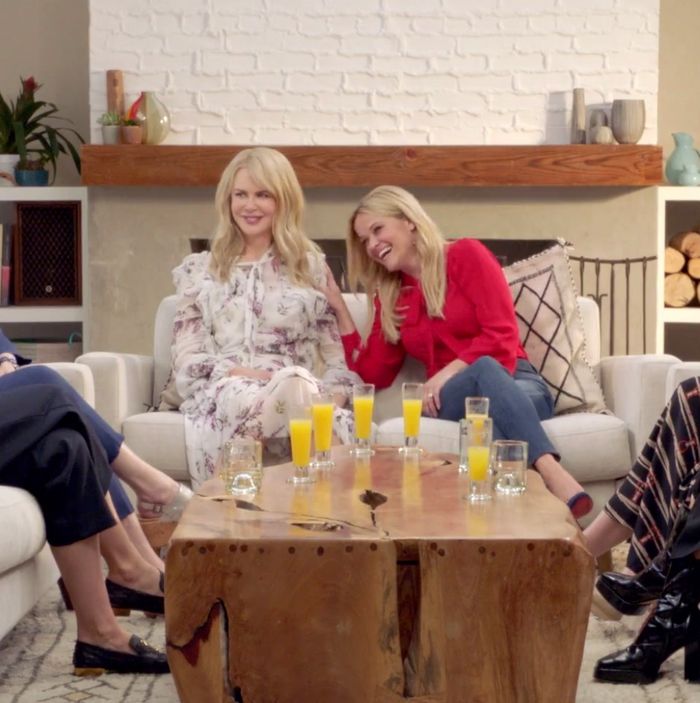 Gripping finale footage.
Photo: HBO
Warning: This post contains spoilers for the Big Little Lies finale, and also for every Big Little Roundtable.
Last night, on HBO, an important series finale aired that starred Nicole Kidman, Reese Witherspoon, Laura Dern, Zoë Kravitz, Shailene Woodley, and Meryl Streep. It was a closing chapter that was beautiful, frustrating, gripping, utterly unhinged, and that left us with far more questions than answers. No, not the Big Little Lies finale. I'm talking about the "Big Little Roundtable: Part 4".
I first discovered the roundtables on Sunday night when — after watching the Monterey Five stroll into the Monterey Police station — I scrolled down to the bottom of the screen for some sort of explanation, or perhaps a taped apology from Jean-Marc Vallee. Instead, I found what appeared to be segments from a View-esque daytime talk show, with lighting bright enough to perform an organ transplant, a coffee table covered in glasses of water and juice/mimosas, enough tastefully displayed firewood to warm a small home for at least three winters, and crocheted plant-holder in the background.
Unbeknownst to me, it seemed, while the bangs-and-sweater-based dramas raged on this season in Monterey, a second, even more surreal show was airing at the same time, secreted down in the "Extras" section of every other episode — nail-biting, three-minute clips in which Nicole Kidman, Reese Witherspoon, Laura Dern, Zoë Kravitz, Shailene Woodley, and Meryl Streep (sans fake teeth) sit on couches, and work to make me, personally, scream.
Sunday's finale roundtable shows Nicole, Reese, Laura, Zoë, Shailene, and Meryl discussing the episode, and how people heal, for example. I only realized this later, though, because on first watch I couldn't hear anything over the long, lingering reaction shots.
After becoming so overwhelmed that I blacked out briefly, and then had to take a walk around the room to touch flat surfaces, focus on my breath, and ground myself back in reality, I returned to the couch and watched "Big Little Roundtable: Part 3," which is in the extras for season two, episode five. In it, the women discuss lies and marriage. Meryl compares marriage to kompromat. Shailene says, "I get sick if I lie." I blacked out again.
I watched the roundtables in the reverse, because if there's one thing that they taught me, it's that logic, time, and order are meaningless. In the "Big Little Roundtable: Part 2," the women discuss motherhood, and Zoë Kravitz talks about how one's words and actions impact other people, and Meryl, in a incredible navy-blue linen jumpsuit, says, somewhat dismissively, "Wait until you're a mother," and then Laura Dern talks with her hands. In the first roundtable, Shailene Woodley talks about empathy, Laura Dern talks with her hands more. I shouted, "Whose living room is this? Why is the lighting so bright? Were these roundtables Andrea Arnold's idea or Jean-Marc Vallee's???"
When I came to the next morning, the walls of my bedroom covered with the words "I get sick if I lie," scrawled in my own blood, I wondered how I hadn't come across these roundtables before. It doesn't matter now, I suppose. What matters now is that I know Meryl Streep has compared marriage to Russian blackmailing.
What most of all, though, is that these extras are only available until the end of July, so you only have a few days to watch them over and over and over again, until you see huge, tidy stacks of firewood in all of your dreams.