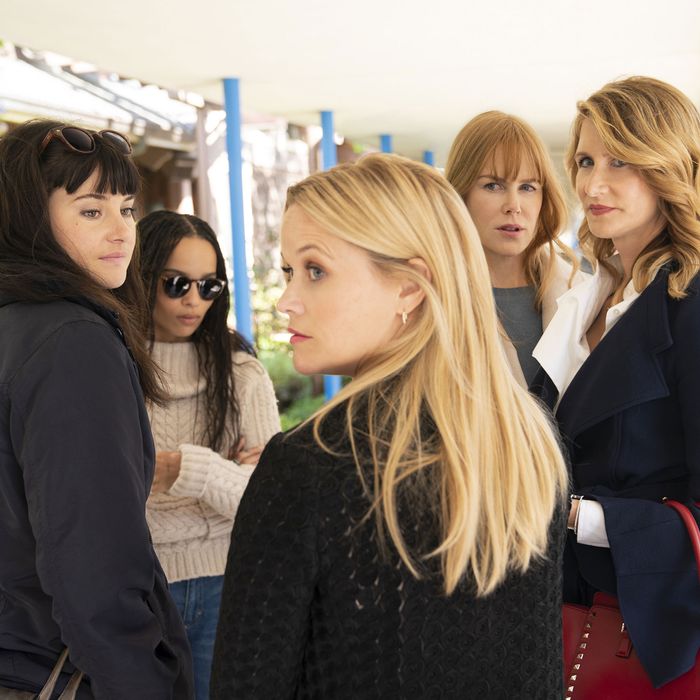 Photo: Jennifer Clasen/HBO
HBO reportedly wrestled away creative control on Big Little Lies season two from director Andrea Arnold, and handed it to season-one director and executive producer Jean-Marc Vallée. Several sources close to the show detailed discord behind the scenes of the hit show's second season: In a report published Friday, sources told IndieWire that when Vallée's Sharp Objects schedule made him unavailable to direct the show's second season, the executive producers and creative team handed the show off to Arnold, without revealing their intention for Vallée to take over postproduction. Sources close to Arnold, who declined to comment to IndieWire, said the director was devastated by the experience of having Vallée take over on the show.
Arnold was hired to direct all seven episodes of the HBO show in December 2017, and Vallée repeatedly gushed that she was an ideal choice to take over. Arnold was allowed to direct and shoot the shows according to her style, but wasn't told that eventually Vallée would return to edit the show into his — and the first season's — style. Arnold was not given a style bible of BLL's visual rules, and was allowed to hire her own production and editing teams. "Even more remarkable, Vallée and Arnold never spoke, nor was there ever a clear showrunner or creative producer who Arnold was answerable to on set," IndieWire reports.
Once Vallée finished work on Sharp Objects, HBO handed him control of Arnold's work on Big Little Lies. "Post-production shifted from [Arnold in] London to Vallée's home city of Montreal, where his own editorial team started cutting what is now airing on HBO. Soon after, 17 days of additional photography were scheduled," according to IndieWire. Arnold directed the reshoots, but Vallée was an "extremely hands-on EP dictating not only what would be shot, but how it would be shot, oversight that Arnold never had during the initial shoot," per IndieWire. Eleven editors, plus Vallée himself, are credited on the series.
HBO's statement to IndieWire credited Arnold for her work, but did not address Vallée's increased involvement. "There wouldn't be a Season 2 of 'Big Little Lies' without Andrea Arnold," HBO told the site. "We at HBO and the producers are extremely proud of her work. As with any television project, the executive producers work collaboratively on the series and we think the final product speaks for itself."