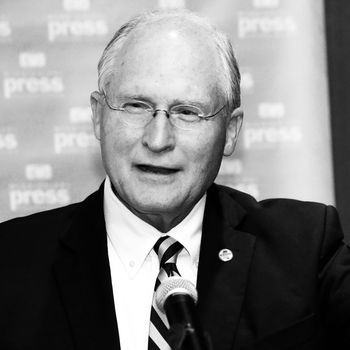 Photo: Rogelio V Solis/AP/Shutterstock
The Mississippi gubernatorial race now has two candidates who say they won't be alone with women out of respect for their wives — otherwise known as the Billy Graham rule. Bill Waller Jr. is the second Republican in the running to make the very weird, very sexist campaign promise, purportedly out of "respect" for his wife. Okay.
Unfortunately, the Billy Graham rule has now become the leading characteristic in this state election — always a good sign when something named for an Evangelical preacher is trending among the GOP. In 1948, Graham famously adopted the practice of avoiding traveling, meeting, and eating alone any with women other than his wife, Ruth, "to avoid any situation that would have even the appearance of compromise or suspicion." (The practice could also be named for Vice-President Mike Pence, who similarly refuses to be alone with women other than his own wife, Karen, a.k.a. "Mother.")
Last week, another Republican candidate in the race, Robert Foster, made headlines for refusing a 15-hour ride-along with Mississippi Today journalist Larrison Campbell unless she brought a male colleague as a chaperone. The stipulation first came from Foster's campaign director, who said the optics of Foster being alone with a woman were simply too risky as they could be used to insinuate that the two were having an affair.
After Campbell wrote an account of her experience, calling it sexist, Foster doubled down on Twitter: "I am sorry Ms. Campbell doesn't share our same views, but my decision was out of respect of my wife, my character, and our faith." (He later used the controversy to solicit campaign funds, though he remains behind in the polls.)
Now his opponent Waller has added his name to the fearless ranks of men who refuse to spend time alone with women under any circumstances: When Campbell caught up with him to ask if he too is a Billy Graham/Pence rule guy, he responded, "I just think it's common sense. In this day and time, I think that appearances are important, I think transparency is important, and people need to have comfort of what's going on in government between employees and people," though it seems he is referring only to "people" who are women.
Campbell also asked Waller how he avoided meeting alone with women as a former chief justice when one of his fellow judges was, in fact, a woman. He told her it was "very easy" because there were always clerks around. I'd love to know what this judge thinks of her own law clerks becoming propriety watchdogs just because Bill Waller, Billy Graham wife guy, is in the room.