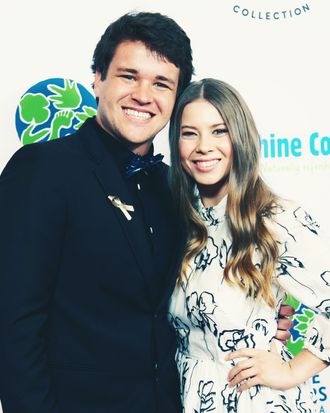 Photo: John Wolfsohn/Getty Images
Today, the rare bit of happy news: Bindi Irwin, 21, daughter of the late Australian TV personality and conservationist Steve Irwin, announced her engagement to her longtime boyfriend, professional wakeboarder Chandler Powell, 22, in an Instagram post on Wednesday, which is also her birthday.
"On my birthday I said 'yes' and 'forever' to the love of my life," Irwin wrote in the post. "Chandler, close to 6 years ago I fell in love with you and every day since has been a whirlwind of adventure and true happiness."
In the comments, she received congratulations from, among others, Olympic gymnast Nastia Liukin, Doug the Pug, and Millie Bobby Brown.
Irwin also added, in a follow-up comment, details about her ring, telling her followers it "features a lab grown diamond and is made with rose gold recycled metal."
Powell also shared his own Instagram post announcing the news, writing, "Almost 6 years ago we met at Australia Zoo. I immediately fell head over heels for her kind and thoughtful heart that radiates so much light. Proposing in her very favorite place in the zoo, surrounded by animals, seemed like the perfect way to embark on this incredible new chapter in our lives."
The two seem to be a sweet couple, and Powell is clearly close with the rest of the Irwins, sharing a picture of himself and Terri, Bindi's mom, on her birthday earlier this month. "Your endless support and kindness means the world. Thank you for everything you have done for me and the millions of lives (both human and animal) on this planet," he wrote.
I'm glad to see Bindi doing well, especially since, back in January, she landed on the lengthy "Health and Death Watch" list of a "Celebrity Psychic" named Psychic Nikki.