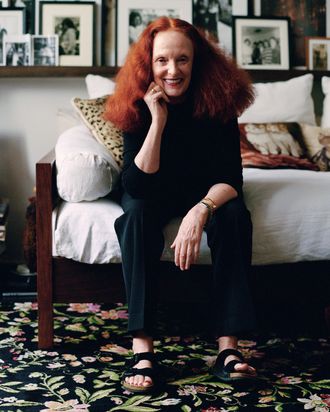 Grace Coddington.
Photo: Courtesy of Birkenstock
Whether you're a Brooklyn mom, an aspiring artist, or, you know, pretty much anyone else reading this article, you probably own a pair of Birkenstocks. And why wouldn't you? They're comfortable. They're versatile. They're authentic. Wearing them signals you're not messing around, but you are, a little.
If you love Birkenstocks, you love Birkenstocks. They become your feet children. The creatives featured in Birkenstock's new campaign agree. British photographer Jack Davison captured different visionaries wearing their favorite pairs in the settings they like to wear them. The founders of i-D magazine, Terry and Tricia Jones, show theirs off in their Somerset barn; Grace Coddington wears hers at her home in Chelsea.
Jack Davison even took a self-portrait with his floofy dog. Even dogs love Birkenstocks! Check out the creatives with their favorite pairs below.