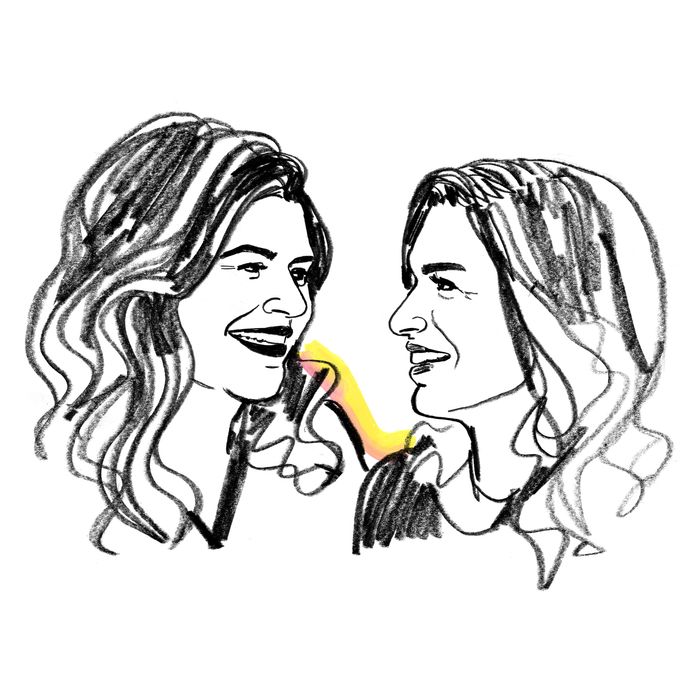 Casey Wilson and Danielle Schneider.
Illustration: Lauren Tamaki
Since its launch in 2015, the podcast Bitch Sesh: A Real Housewives Breakdown has developed an ardent fan base. Even if you're not a Housewives superfan, the podcast is addictive, thanks to the wit and Bravo-devotion of hosts Casey Wilson and Danielle Schneider. The two friends — who are both actors, writers, and comedians — met years ago in a class at Upright Citizens Brigade. In addition to hosting their wildly popular podcast — which has featured guests like Chelsea Handler, Kristen Wiig, and Roxane Gay, Wilson has appeared in Happy Endings, SNL, and most recently, Netflix's Always Be My Maybe. Schneider was recently a writer and actor on Showtime's Black Monday (which also starred Wilson). On August 1, you can catch them at Bitch Sesh Live in Los Angeles with guest June Diane Raphael in a show to benefit the scholarship program of women's co-working space Jane Club. Wilson and Schneider both live in L.A. with their families. Here's how they get it done.
On a typical morning:
Wilson: My eyes open when my 1-year-old starts screaming. I make a cold brew with almond milk that I've managed to make taste like a milkshake, and then I get my other son up. He's 4, and he yells at me. I get my kids ready, and then I do myself. I have many, many lotions and potions from my dermatologist, Christie Kidd, that are my lifeline. I get dressed, I assess if I can go another day without washing my hair, and I get in my car. I take my son to school and head into the day like an easy, breezy CoverGirl. Don't be jealous, please. I did not say all that to make anyone feel bad about themselves.
Schneider: I wake up with my daughter. I'm lucky if I can get her to sleep until 6 a.m. Sometimes, she waits by the side of my bed and jumps up to scare me — a terrific little heart attack to get me going in the morning. Now, I can't even sleep because I'm like, Is she here? Is she coming? Once we're both awake, I put her in front of the TV so I can make a smoothie and get her lunch together. My daughter yells at me, "Mommy, I can't hear the TV. Stop making the smoothie — and also, can I have some of that smoothie?" I drop my child off at school looking like a monster. I put on workout clothes because I think I'm going to come home and work out, but then I don't. I also read the Daily Mail every morning, which Casey turned me on to.
Wilson: That's our CNN.
On exercise:
Wilson: For my workout, I either go to Rise Nation with my trainer or to Flywheel. If I go to Flywheel, I go to Lacey Stone's class. I love Lacey, but my other trainer doesn't want me to spin, so I've switched it up and gotten into weight training. I just don't know who to believe anymore.
Schneider: On the rare occasion I do work out — which happens less and less — I go to Irene Blanks. She's the sister of Billy Blanks, the Tae Bo guy. I adore her.
How they got the idea for a podcast:
Schneider: We had been friends for a long time, and we would always watch Real Housewives with our friend group and Casey and I would text about it. After she had her first kid, Casey was looking for something to do during her maternity leave. She was like, "Hey, let's just do a podcast for a month or two. It'll be fun! People like us and our five friends will want to listen to us talking about what the Housewives are doing."
On growing the podcast:
Wilson: We had major help from Paul Scheer, who was our first contact in the podcast space. He does this great podcast, How Did This Get Made? with June Diane Raphael and Jason Mantzoukas, and they offered to put Bitch Sesh in their feed. I have to say, I'm still surprised that it took on a life of its own.
Schneider: We always joke that we're holding our listeners hostage. You're coming to the podcast for Housewives talk, but here's me talking about my pubic hair. For us, it's not only a show about the Housewives; it's also a comedy show. So whatever is funny to us at the time, or whatever things we're thinking about or have done or seen, we throw it all in the podcast.
We're not afraid to touch on real personal things that have happened to us, whether good or bad, or things that are happening in the world. The Housewives are like a looking glass.
On the production of the show:
Wilson: We tape in the kitchen (known fondly on the show as "nook 2.0").
We refuse to go anywhere else, so we just have our guests come over. We order food, sometimes we have a glass of wine, and watch the show, and then we literally walk two feet into the kitchen and tape. While I say that it couldn't be easier, Bravo is cranking out these cities at a rate I can barely keep up with.
On the many reality shows they watch:
Schneider: We try to keep up with as many shows as possible. People are always telling us about new shows like 90 Day Fiancé, which we've added to our roster. Casey has taken to listening to some episodes in her car, as if it's a 1940s radio play of the Real Housewives.
Wilson: There are some critically important shows that we just haven't been able to get to, like Married to Medicine. The one show we'll never do is The Bachelor. You see, there are Bachelor people and there are Housewives people, just like there are dog people and cat people.
On the appeal of the Real Housewives:
Wilson: It's like a Greek tragedy with suburban pageantry, and I'm here for it. They're all iconic women, and they're all terrible, but I have love for them all. To be invested in Housewives is to have a critical eye on female relationships and friendships. It's not only yelling, although people who don't watch think that. There's something so epic about it. I love the fact that so many of the women are over 50.
Schneider: They're not likeable in the sense that TV characters are supposed to be. Even though they're edited, it's women being raw. There's good and evil and it switches every day.
On their "no tagging" policy:
Schneider: We tell our listeners not to mention us to the Housewives because we want it to be an open and free space. It's not like we want to talk shit about these people; it's just our opinions on one day. It all comes from a place of love. We don't want to hurt these women's feelings. Even if we're ragging on them one week, we love them the next week.
On their nighttime routines:
Wilson: I feel like my nights have been taken over by work I used to do during the day before I had kids. Now, I'm either falling asleep with one of my children in bed with me at 7:30 p.m., or I put my kids to bed and I'm writing and working.
Schneider: My child goes to sleep around 8 p.m. I'm so tired by then, but I usually have more work to do. Depending on what I'm working on, I'm in a writers room for most of the day, so at night I'll work on the project my writing partner and I are developing, or another thing that I can't work on during the day.
Wilson: We do socialize at some points.
Schneider: We have nights out with friends. My husband and I try to do date nights on Mondays because we have a babysitter. We've been going for dinner at 5:30 p.m. like old people, and after we're like … should we get a gelato?