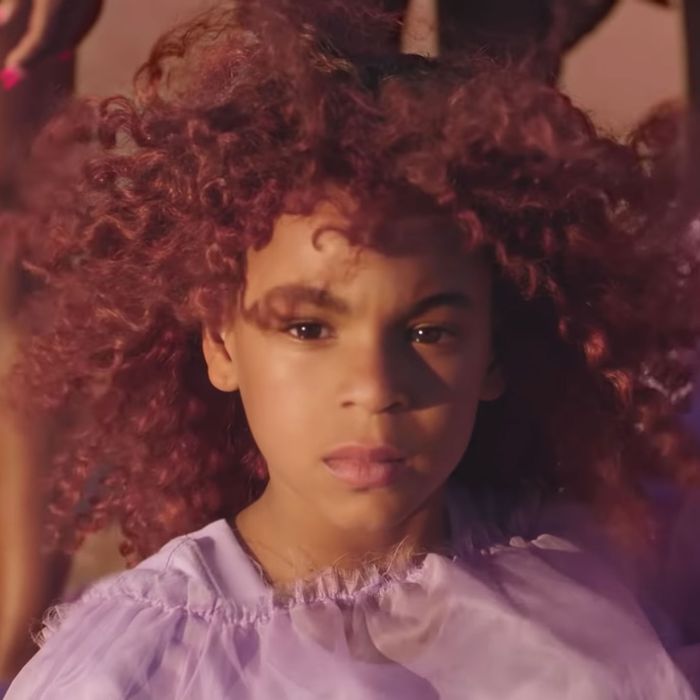 On Wednesday morning the internet collectively gasped in awe as Beyoncé's new extremely color-coordinated music video for "Spirit" opened with shots of 7-year-old Blue Ivy Carter in a purple frock and red hair to match her mother's. For one brief moment, Blue stares down the camera alone, her charisma and ability to maintain eye contact very much on display.
"Spirit" is a track off The Lion King: The Gift album, a companion to Disney's new live-action Lion King remake, which is receiving considerably less glowing reviews than Blue Ivy's music-video cameo. Beyoncé produced, curated, and, of course, performs on the album, in addition to voicing Nala in the film. In an interview with ABC News that aired Tuesday night, the pop star talked a bit about the new music:
"This soundtrack is a love letter to Africa, and I wanted to make sure we found the best talent from Africa, and not just use some of the sounds and did my interpretation of it … We've kind of created our own genre, and I feel like the soundtrack, it becomes visual in your mind. It's a soundscape. It's more than just the music, because each song tells the story of the film."
As for the "Spirit" video, people on social media responded very enthusiastically to the parts where Blue Ivy appears, with the incredible range of wardrobe changes receiving honorable mentions:
You can watch the music video for "Spirit" below.