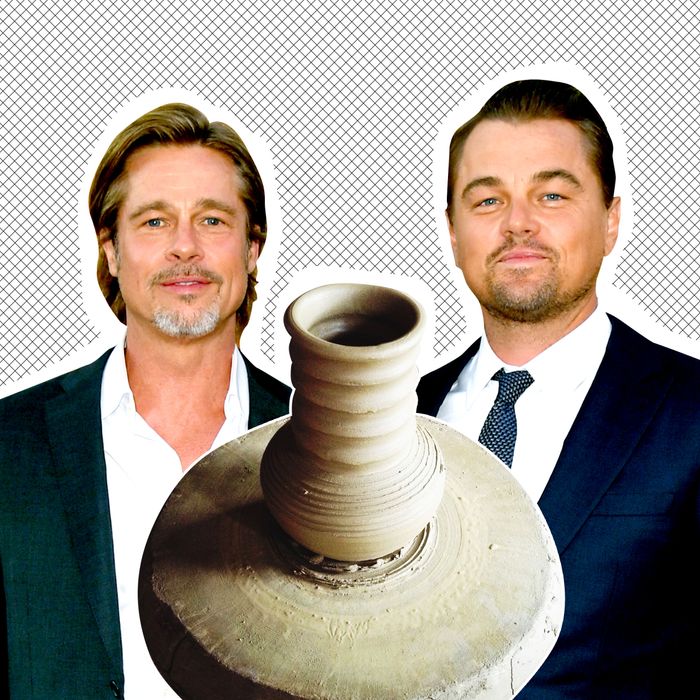 Pottery Posse.
Photo: Getty Images
It's boys' night, and you know what that means, fellas — time to fire up the kiln, tuck into some nice big sammies, and get our hands muddy while enjoying the sensual and creative art of pottery.
Like Brad Pitt and Leonardo DiCaprio, the two stars of Quentin Taratino's new film, Once Upon a Time in Hollywood, who, according to U.K. tabloid The Sun, "have been bonding over the art form" and having boys' nights together at Pitt's home sculpting studio. Sometimes they hang out "with Brad's artist pals," one source told the paper; other times "it's just the two of them."
"Leo brings sandwiches over from their favorite place, Fat Sal's, and they spend their boys' nights creating art until the early hours."
This sounds like a really lovely way to spend an evening, actually, and I'm happy for Brad and Leo. Brad, of course, has been exploring sculpting and pottery for some time. He reportedly skipped the 2017 Academy Awards because he was "holed up creating a sculpture at British artist Thomas Houseago's Frogtown studio." Up until now, Leo's main artistic outlets aside from acting seem to have been beach volleyball and being an Instagram boyfriend.
The same source told The Sun that "the film has been quite exhausting for Brad and Leo, so it's been nice to see them strike up a friendship. Some of the pieces could even get on the market."
Is it possible we'll soon be able to buy misshapen mugs with enormous handles that say "Pottery Posse" on them on Etsy? Stay tuned.