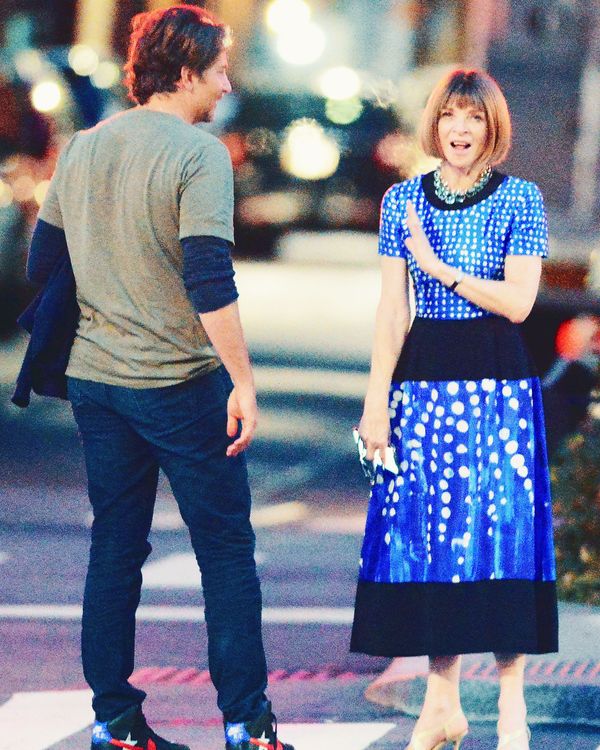 Photo: TheImageDirect.com
Since his split with supermodel Irina Shayk, Bradley Cooper seems to be doing what anyone should post-breakup, which is meet publicly with all of his most-powerful, talented friends. For Cooper, such friends happen to include actress Laura Dern and Vogue editor-in-chief Anna Wintour, both of whom Cooper dined with in the last few days.
According to the Daily Mail, Cooper and Wintour met for dinner somewhere on the Upper East Side on Tuesday night. Wintour wore a blue and white polka-dot Marni dress, Cooper his favorite pair of Riccardo Tisci Nikes. He also had the gall to wear a long-sleeve Henley underneath a short-sleeve T-shirt in front of the illustrious Vogue editor, plus he debuted a fresh mustache.
What did Anna Wintour and Bradley Cooper talk about at dinner? Perhaps he wanted the AWOK on his new look. That can give anyone legs in this town. But your guess is as good as ours. The two have been friends for some time now. They both like to attend Wimbledon, which just wrapped. Perhaps they needed to debrief on Roger Federer's very-stressful loss to Novak Djokovic.
We can also think of one fashion-related question that Wintour could've asked Cooper, one the public is still dying to know …
Why, Bradley Cooper, do you look so good in those jeans???