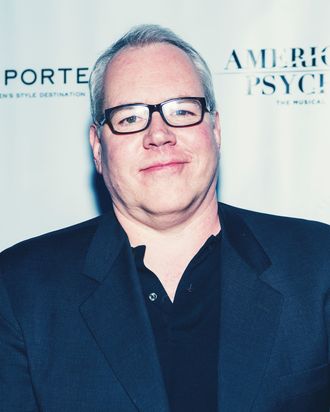 Bret Easton Ellis.
Photo: Roy Rochlin/Getty Images
Bret Easton Ellis has recognized the problem with the modern fashion industry: It's too inclusive! In an op-ed originally published in Vogue Italia and republished this morning on Business of Fashion, the author spends seven paragraphs reminding you about his 1998 novel Glamorama and two paragraphs arguing that snowflake millennials don't get that pretty thin people should be the models. He writes:
This is a world where the body positivity movement says all bodies are beautiful and if you don't find a heavy-set woman or a plus-sized model attractive, you are in fact body-shaming her and need to be cancelled. If everyone is beautiful then nobody is beautiful. But the groupthink of Millennials doesn't realise this yet. 
His book Glamorama is about a male model who becomes a terrorist. In the first sentence of his op-ed, Ellis calls it "epic." When he was immersing himself in the fashion industry in the late '80s and early-to-mid-'90s as research for Glamorama, all the models were conventionally attractive and thin. Cindy Crawford, Naomi Campbell, Linda Evangelista, et al. dominated the runway and ads. Then disaster struck.
Although fashion has (slowly) become increasingly more inclusive of people with disabilities, people of color, and members of the LGBTQ+ community, Ellis seems most disturbed by the body-positivity movement. Which raises the question, has Ellis seen a plus-size model? Most people would agree that Ashley Graham and Paloma Elsesser are way hotter than the average person. The reason Curvy Wife Guy is amusing is because his wife, Sarah, is beautiful. That aesthetic hasn't been overridden by what Ellis calls "millennial groupthink."
And where are these scores of plus-size models infiltrating the coveted Parisian fashion shows? Bret, my dude, the haute couture runways last week didn't have any plus-size models on the runway. Gucci may have used a model with crooked teeth for its beauty campaign, but it isn't casting plus-size models for campaigns or runway shows. The upper-est echelon of the fashion industry is not exactly throwing out the Cindy Crawford model.
Ellis says his Glamorama plot wouldn't work in this hypersensitive, hypocritical new age of fashion, because the fashion world isn't exclusive or secretive enough. But it clearly would. Fashion is about power in a myriad of ways, and that hasn't changed since the '90s.