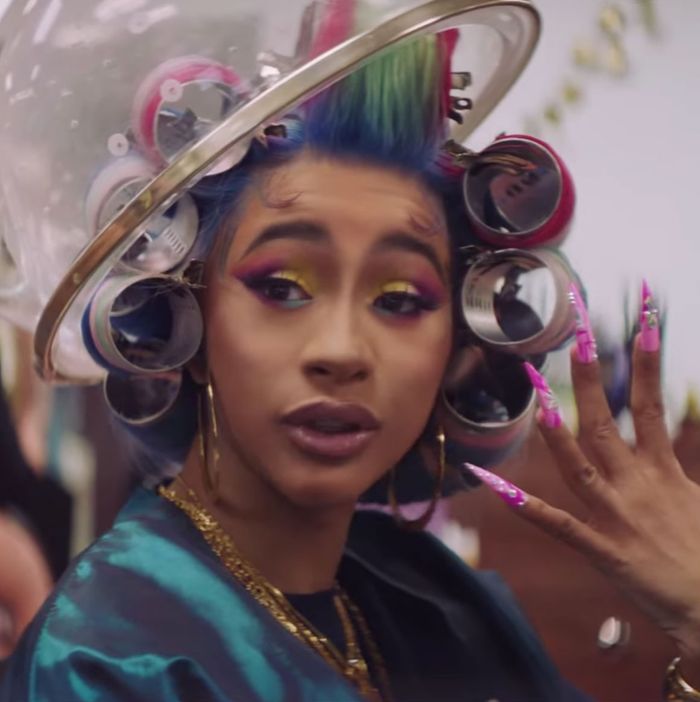 A sneaker deal is a rapper's rite of passage. Cardi B has famously partnered with Fashion Nova and Steve Madden in the past, but last November she announced she would partner with Reebok, the classic sneaker and athletic-clothing brand. On Tuesday, the company released a new advertisement, and at its center is the "Press" rapper. It's absurdist, attention-grabbing, and completely Cardi B.
The ad opens with Cardi at a beauty salon, her rainbow hair set in curlers. As her hair dries, she complains to her friend about a man who ghosted her— but then she notices that her Club C 85 Vintage sneaker is untied. The entire salon freezes, wondering what she'll do next.
It turns out to be an easy fix: Cardi's candy-pink nails know her needs, and so they slowly, freakishly extend out and slither down her leg to tie her shoelace, as the entire salon watches in awe. Knot tied, her nails retract like claws and Cardi declares, "Nailed it."
In a press release, Reebok said, "It's a creative concept that salutes Cardi's own life experience, which saw her challenge expectations to become a self-made maven, and incorporates boundary-pushing nail art that has become an iconic feature of her style." Her bedazzled nails literally act as an extension of herself.
It's a big year for Cardi — she's also set to star in Hustlers, a film about stripper friends who rob rich guys together, which is out in September.