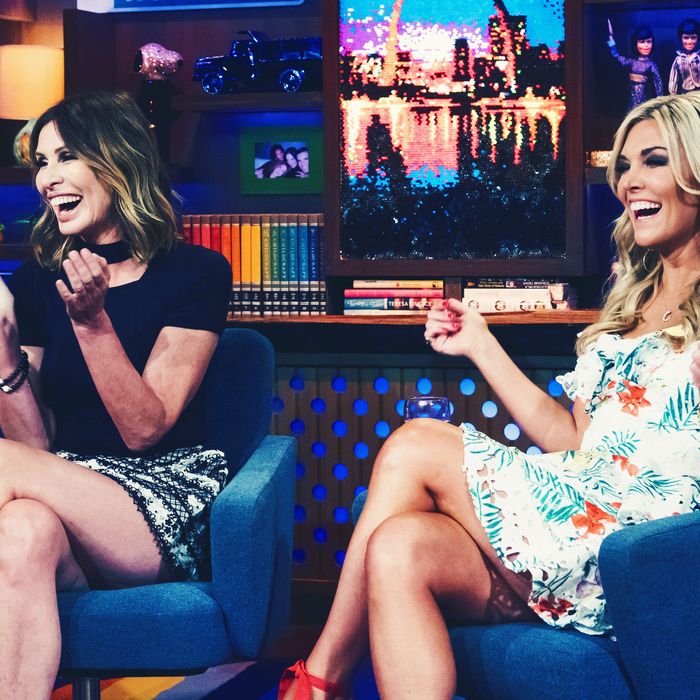 Photo: Bravo/NBCU Photo Bank via Getty Images
Carole Radziwill is a lot of things. A journalist. An author. A television personality. Someone who ran the New York Marathon. Thin. A guardian of multiple pets all of whom have the same name, which is "Baby." The president of her co-op board in the West Village. She is all of these things, yes, but I will tell you one thing she is not, and I do suggest you listen closely.
Carole Radziwill is not someone who was ever besties with her former Real Housewives of New York co-star Tinsley Mortimer.
EVER!
During the Real Housewives of New York's tenth season, it seemed Radziwill and Mortimer had made a new alliance. In previous seasons, Radziwill had been closest with cast member Bethenny Frankel, but things seemed to shift between them after the conclusion of the show's ninth season. (The shift was never explained, save for the suggestion that it could have been due to Radziwill's then-boyfriend Adam asking for a day rate for work Frankel asked him to do for her charity, which Frankel found unseemly.)
In the wake of Radziwill's friendship breakup, she seemed to find solace in a close friendship with new cast member Tinsley Mortimer, whom she was often seen hanging out with and rooming with on the Housewives' various vacations.
But did she really find solace in a close friendship with new cast member Tinsley Mortimer?
No — she did not!
"Tinsley and I weren't really clicking," Radziwill said on a recent appearance on SiriusXM's the Jenny McCarthy Show. "We were on the show together, no one wanted to film with her that much. I had fixed her up with this guy I knew, so it was an easy way to do scenes together."
The Real Housewives of Jerusalem's Lord once told the disciple Peter, "Before the rooster crows today, you will disown me three times." Similarly, this isn't the first time Radziwill has attempted to disown Mortimer. She denied her during part three of the show's season ten reunion episodes, claiming that while she was a "nice girl" they were never really that close. This, it is worth noting, was much to the surprise of Mortimer.
"We filmed a lot together," Radziwill told the Jenny McCarthy Show, "but a lot of it was, 'Oh you're going to stay in Tinsley's room' when the producer would divvy up rooms."
"I was like 'Okay, but that's not really what I would do. I would normally go to the Hamptons and stay at Bethenny's house,'" she continued. "'This is weird that I'm staying at Tinsley's.' So a lot of that. And Bethenny knew that."
I suppose we may never know the truth of whether or not Carole Radziwill and Tinsley Mortimer were ever, if but for a moment in time, besties.
Radziwill, who left the series before the current 11th season, claims that she is no longer close with either Mortimer or Frankel.