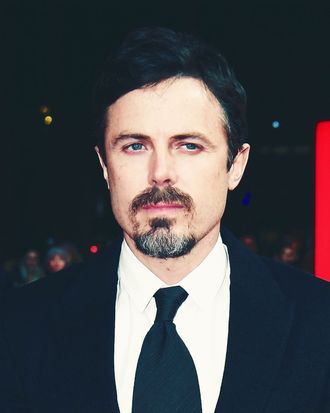 Casey Affleck.
Photo: Matthias Nareyek/Getty Images
Casey Affleck, little brother of Ben, has had some, uh, issues with women in the past. In 2010, he had two sexual-harassment lawsuits filed against him by women who worked on his mockumentary I'm Still Here. Producer Amanda White said Affleck constantly discussed his "sexual exploits," once instructed another crew member to flash his penis at her, and regularly referred to women as "cows." Cinematographer Magdalena Gorka claimed he once tried to climb into bed with her. The lawsuits were settled for undisclosed amounts, and Affleck has repeatedly denied the claims. Though more attention was paid to them in the wake of the #MeToo movement, the allegations did not prevent him from going on to win the 2017 Academy Award for Best Actor for his role in Manchester by the Sea (although the woman presenting the award, Brie Larson, did refuse to clap for Affleck).
But in his new film, Affleck imagines a world where he is free of all the hassles that come with having to work with, respect, and generally exist alongside women, because all the women (except one) have been wiped out in a plague.
In Light of My Life — which he wrote, directed, and stars in — Affleck plays a father living in a dystopian world where all the women died from a terrible disease, except for his daughter, who has to pretend to be a boy for her own safety. The trailer is dark and creepy, and features Elisabeth Moss (in flashbacks, not the present, because all the women are dead, remember?).
When asked if the film was a response to his personal experience with #MeToo at the Berlin International Film Festival back in February, Affleck said, "It's not. I wrote this movie and made this movie before all of those things became part of the conversation. I hope people keep their minds open and be responsible and measured in their reactions. And people can talk for themselves. It's not something I can control." Okay.
Casey is not the only Affleck making a movie about women suffering in horrible ways. Big brother Ben is teaming up with Matt Damon, Ridley Scott, and Nicole Holofcener to make The Last Duel, an adaptation of the novel The Last Duel: A True Story of Trial by Combat in Medieval France. Per Deadline:
It's a revenge story of two best friends. Damon and Affleck will play them. The main characters are the Norman knight Jean de Carrouges and the squire Jacques Le Gris. They were friends. One goes to war and returns to accuse Le Gris of raping his wife Margerite de Carrouges. No one will believe the woman, and the soldier appeals to the king of France to undo a decision handed down by Count Pierre d'Anencon, which favored Le Gris. The decision handed down is that the two men fight a duel to the death. The one left alive would be declared the winner as a sign of God's will. And if Jean de Carrouges loses, his wife will be burned at the stake for punishment for her false accusation.
One movie about women being wiped off the face of the earth, and another about the rape of woman that is, somehow, actually about two men. What a time to be an Affleck.