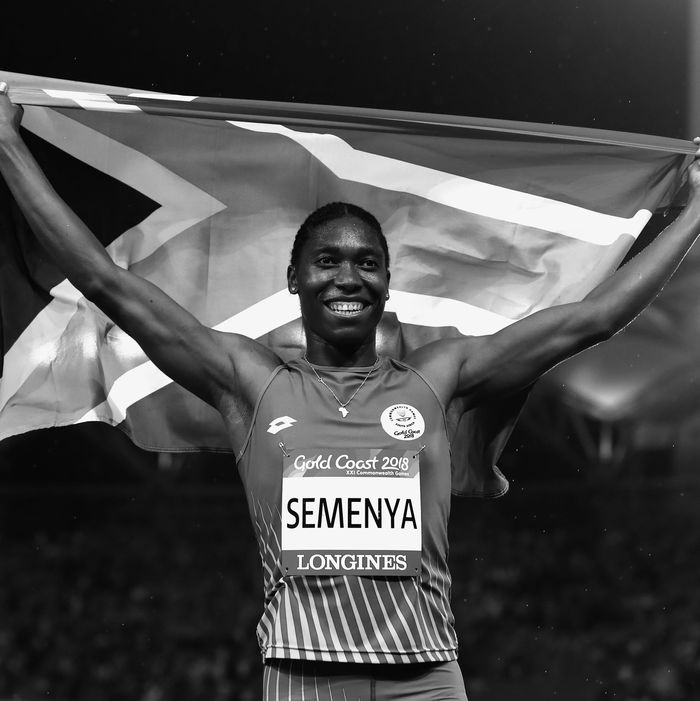 Caster Semenya.
Photo: Cameron Spencer/Getty Images
On May 1, international athletics' highest court ruled against Caster Semenya, a two-time Olympic champion runner from South Africa. Per their controversial decision — which the court openly acknowledged as discriminatory — female athletes with higher testosterone levels must take hormone suppressants to compete in certain women's races. This means Semenya will be forced to take the suppressants, or she'll be barred from competing in 800-meter races at the Olympics and other major international competitions. Semenya has refused to abide by the court's testosterone regulations, and on July 30, she announced that she has banned from defending her title in her signature event at the world championships this fall.
Below, here's everything to know about the court decision that has shaken athletics.
Who is Caster Semenya, and why has IAAF been targeting her?
Caster Semenya is a 28-year-old South African runner who gained worldwide recognition in 2009, when she won the gold medal in the women's 800 meters event at the World Championships. However, this event also marked the beginning of Semenya's years-long battle against the International Association of Athletics Federations (IAAF) over her naturally occurring high-testosterone levels.
Following her win, when she was just 18 years old, Semenya was subjected to a "gender verification" test, which she later called "unwarranted and invasive" in a statement. Eleven months later, she was cleared to compete, and went on to medal in the 2012 Summer Olympics two years later; four years later, she won the gold at the 2016 Summer Olympics.
What is the context to this ruling?
In 2011, the Federation enacted a rule restricting the permitted level of testosterone in female athletes, which was overturned in 2015. Just last April, the IAAF ruled yet again that female athletes with high levels of testosterone must take medication to reduce their testosterone levels to compete at distances from 400 meters to a mile. (Semenya competes in the 800 meter event.) This ruling was scheduled to come into effect in November 2018, but Semenya challenged it on the basis that it was "discriminatory, unnecessary, unreliable and disproportionate."
And May 1, after months of consideration by the court, Semenya lost her appeal.
What exactly was the court's ruling?
On April 30, the Court of Arbitration for Sport — which the New York Times has described as "the Supreme Court for sports disputes" — announced in a 165-page ruling that its three-person panel found that the regulations proposed by IAAF were "discriminatory." However, they argued that "such discrimination is a necessary, reasonable and proportionate means of achieving the IAAF's aim of preserving the integrity of female athletics in the Restricted Events."
How has that gone over?
The decision has been slammed as racist and sexist, and many have pointed to the contrasting ways that men with natural athletic advantages have been treated — particularly, Michael Phelps, whose body produces an exceptionally low amount of fatigue-inducing lactic acid when compared with those of his competitors. "Michael Phelps: The man who was built to be a swimmer" reads a 2014 headline on The Telegraph; in a New York Times story from 2008, the writers waxes poetic over Phelps's "physiological attributes that place him at the limit for his species." And so on.
How has Semenya responded?
In a statement released by her lawyers on May 1, Semenya said, "I know that the IAAF's regulations have always targeted me specifically. For a decade the IAAF has tried to slow me down, but this has actually made me stronger. The decision of the CAS will not hold me back. I will once again rise above and continue to inspire young women and athletes in South Africa and around the world."
On May 29, Semenya filed an appeal with the Federal Supreme Court of Switzerland; then, in a twist that Semenya's lawyer called "morally uplifting," the Swiss court demanded that the IAAF's testosterone regulations against Semenya be immediately suspended until June 25, per the Guardian. On July 30, though, Semenya had to cut her celebration short: The Swiss court announced that, at least temporarily, it was reversing its June decision, the New York Times reports. Semenya, however, plans to appeal again.
Has Semenya been banned from any major sporting events yet?
Due to the Swiss court's reversal, Semenya announced that she will not be able to compete in her signature event, the 800 meters, at this year's world track championships in Doha, Qatar.
"I am very disappointed to be kept from defending my hard-earned title," Semenya said in a statement released on July 30, per the Times. "But this will not deter me from continuing my fight for the human rights of all of the female athletes concerned."
This post has been updated.