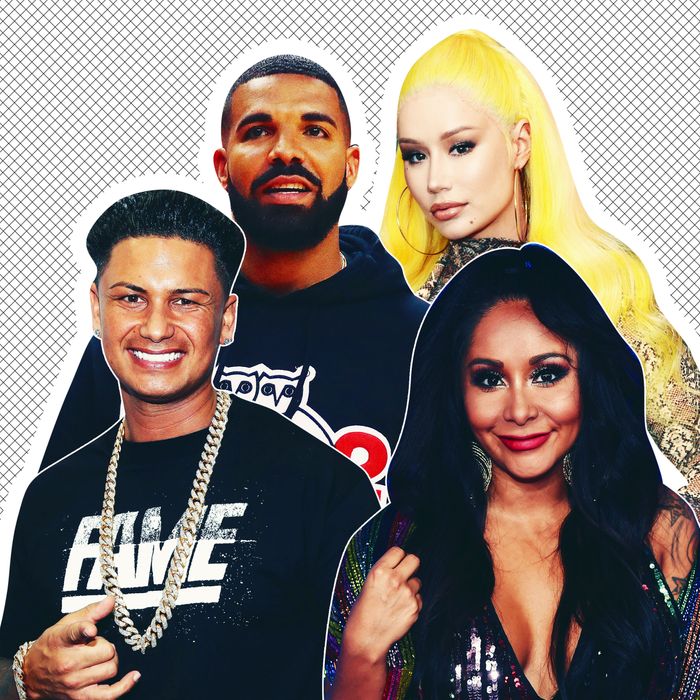 The latest viral craze comes in the form of FaceApp, an app that allows you to age your face through an editing tool. It makes it remarkably easy to alter your appearance, and it is so detailed that it can make viewers do a double take. Users have been posting selfies in which they have white hair, wrinkles, sagging jawlines, and more signs of age.
As with all viral trends, this one has made its way over to the celebrity set, with somewhat intriguing results. Celebrities are traditionally cheaters of age; it's nice to imagine what they might look like in 40 or 50 years, assuming all expensive skin-care products and surgical technologies somehow become inaccessible. They've been posting selfies, too — here are some of the best celebrity age transformations we've seen.
Diplo
I wish I could unsee this, but here we are!
Vinny Guadagnino and DJ Pauly D
They'd definitely still be down to hit the club, iced out at 85.
Snooki and JWoww
Evidently, the tanning booths will not be kind in the long run to these BFFs.
Lebron James
Serving televangelist chic.
Carrie Underwood and Mike Fisher
The singer and ex-Ottawa Senators player look to be enjoying retirement together, in love.
Steph Curry
He look somewhat predictable, and familiar. He would let you cut him in line at the bodega if you were in a rush.
Gordon Ramsey
The chef joked about hosting Master Chef season 50. Somehow, he's even more terrifying this way.
James Marsden
Honestly, I still would.
Drake
Honestly, I still would!
The Jonas Brothers
HONESTLY, I STILL WOULD! Except for Kevin. Sorry Kevin.
Scooter Braun
The music mogul made a tongue-in-cheek joke that all the Taylor Swift drama has " really taken a toll" on him.
The Fab Five
Still good-looking, and I bet their style tips get better with age too!
Lil Nas X
The year is 2070, and Lil Nas X is still releasing "Old Town Road" remixes. His voice has gotten considerably raspier, and sometimes he forgets the lyrics, but we still bop anyway.
Sam Smith
The singer rocks a big heart hoop earring, even with white hair.
Iggy Azalea
After a fan transformed her into an 80-year-old, the rapper replied "Who are we kidding … this is me at 50." She's probably not wrong!
And as with all viral trends, first comes love, then comes celebrities, then comes panic: Some outlets have called attention to a line in the app's terms of service, which states that users grant FaceApp the ability "to use, reproduce, modify, adapt, publish, translate, create derivative works from, distribute, publicly perform and display" their photos. That essentially means FaceApp can use your stuff however they see fit. A perfectly dystopian ending to yet another viral trend.