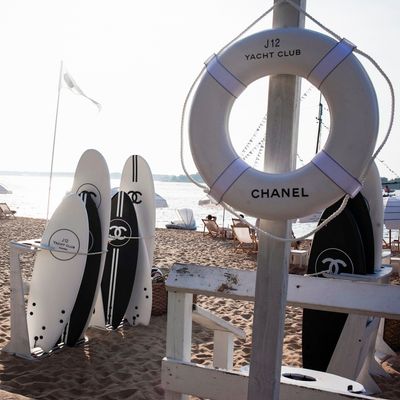 The much-photographed surfboards.
Photo: Lexie Moreland/WWD/Shutterstock
The teens had heard that Billie Eilish was on Shelter Island, and now they were crowding around Chanel's pop-up yacht club (which is open to the public through Monday). There must have been nearly 100 of them, waiting near the beach where Chanel had propped up branded surfboards in an Instagram-friendly tableau.
Inside the club, a crowd of fashion insiders watched Eilish perform as the cherry on top of a glamorous night celebrating Chanel's J12 watch, which was inspired by J-Class racing yachts (hence the theme.) Guests arrived by boats stocked with rosé; inside the yacht club, a roomful of J12 waited to be admired, including a diamond-spangled watch that visitors could try on. Even at Shelter Island, the heat wave was oppressive, but here there were celebrities — Camila Morrone, Euphoria's Maude Apatow, DJ Kitty Cash — and Chipwiches and ping-pong to take your mind off the heat.
In an oversize green shirt and Chanel chains, Eilish stood out from the crowd of dresses and tweed shorts. "I gotta be baggy, dude. Even though it's hot as hell; it's a baggy day," she told the Cut before performing with her brother, Finneas O'Connell.
The pièce de résistance was a foot brace for her sprained ankle. "We had this extra Chanel shirt that was really sick, but it was tight and I didn't feel comfortable in it. So we were going to cut it up to make it. But I was like, that's a little disrespectful. I'm not going to cut a shirt to make a boot. We got approved to cut a scarf, so we got a scarf and sewed it on."
If you're hoping to cop one, Eilish said (mostly jokingly, I think) that a collab would be "fire." After her performance, she sauntered out to greet the teens, dispensing hugs despite the heat.