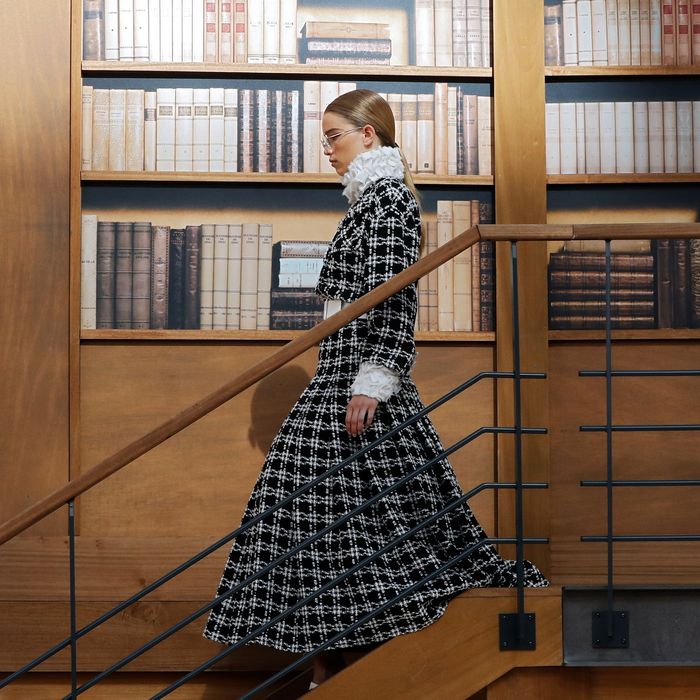 Chanel fall 2019 haute couture.
Photo: FRANCOIS GUILLOT/AFP/Getty Images
Back in March, Vogue pointed out that the hottest accessory of 2019 was not a fanny pack, nor three oranges in a mesh bag, but, in fact, a book. Bella Hadid was reading one (The Outsider by Stephen King), as was her sister, Gigi Hadid (The Stranger by Albert Camus). One month later, Emily Ratajkowski discovered author Sally Rooney. And on Tuesday, the trend was confirmed when Chanel made the backdrop for its fall 2019 haute couture show in a library, with models wearing reading glasses.
This was Virginie Viard's debut Chanel haute couture show since taking over the historic house from Karl Lagerfeld, who passed away in February. Lagerfeld was known for being an avid reader who wanted nothing more than a bed, a desk, and "books and books and books to read." He reportedly kept more than 100,000 in a special-built library at his home in Biarritz. In that way, the show was yet another tribute to the late designer. However, Viard told Vogue that she was inspired specifically by the library in Gabrielle Chanel's daytime apartment (she slept next door at the Ritz) and by Galignani, Lagerfeld's favorite Paris bookstore.
Lagerfeld's couture shows were quieter than his ready-to-wear productions, which often had elaborate sets resembling supermarkets, waterfalls, merry-go-rounds, and even spaceships. He let the inherent beauty of couture speak for itself, although he still picked dramatic settings like Italian villas and magnificent gardens. By comparison, Viard's choice to show in a library marked a shift in tone to a quieter, more intimate kind of fashion. Literally, the soundtrack was meant to be "more casual," according to Michel Gaubert, with lyrics including "I just want to be a woman."
The collection was equally no-fuss, with clean lines, casual silhouettes (like a zip-up bomber jacket worn over a short dress), and soft fabrics, like velvet. Models looked comfortable, with minimal makeup behind their rimmed glasses and simple flats on their feet. Instead of Lagerfeld's usual POP! and POW! the clothes let out a demure whisper, like any good librarian.
In his Vogue review, Hamish Bowles called the collection almost "anti fashion," or at least antithetical to the kind of fashion that Lagerfeld invented. It seems we're entering an era of quiet minimalism, instead, where good style is lovely, not "lit."