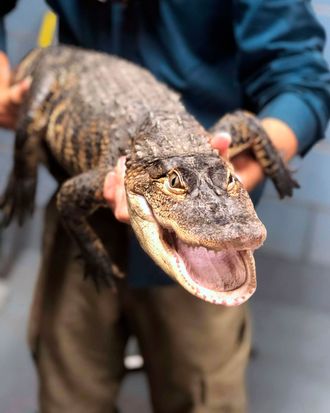 Photo: Kelley Gandurski/AP/Shutterstock
While New York City's hot duck is taking a break from the public eye, probably to molt, the nation shifted its attention toward a Chicago alligator nicknamed "Chance the Snapper" who has charmed Humboldt Park visitors and eluded authorities for the past several days.
Until now.
On Tuesday the Sun Times reported that Chance was rudely seized from the Humboldt Park lagoon with the help of an alligator expert an local animal control. This is not a tiny alligator, mind you; its more than five feet long and weighs up to 50 pounds. Still, all in all, most rude.
Enoch DeJesus, a member of the Humboldt Park Fishing Society, spoke to the Times about the gator's capture, saying, "I'm sad to see him go because it was actually pretty nice to have him here." DeJesus went on, "It brought a lot of publicity to Humboldt Park, and people from all over came to try to see it … The gator actually brought people together. And that's pretty cool."
Another interviewee, described by the Times as "a person walking a dog," saw things differently. "Good," said this person walking a dog, "now we can have the park back."
To which I ask: Why can't you share the park with an alligator? Ever since Chance was first spotted on July 9, it's been apparent that visitors have enjoyed trying to spot him, despite sections of the park needing to close in his presence.
This gator, which authorities say was probably brought to the lagoon by an individual illegally in possession of it, was a menace to many, a friend to none, and did more to put Humboldt Park on the map than most animals.