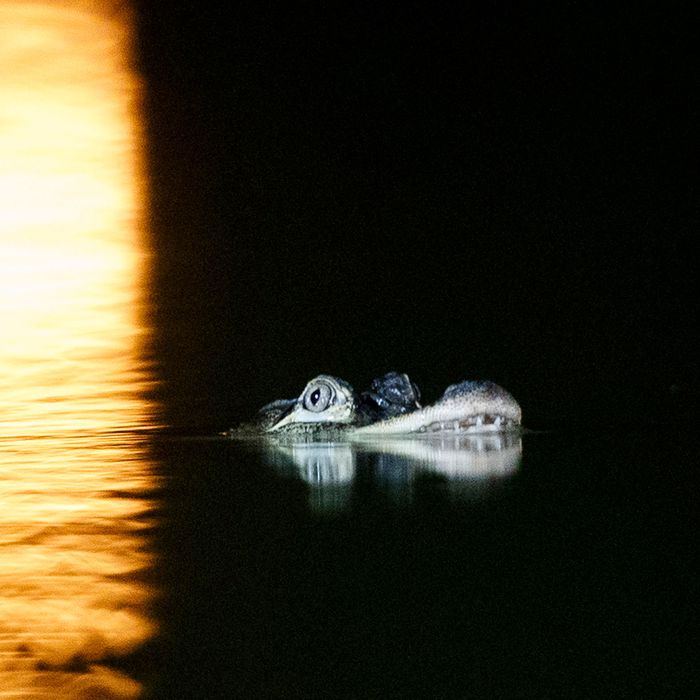 Hey there little (big) buddy.
Photo: Chris Sweda/TNS via Getty Images
A scaly bandit has taken Chicago by storm, seizing citizens' hearts with its prehistoric Krampus hands and dragging them to the depths of its new lagoon home. Since an alligator moved into Humboldt Park, on Chicago's West Side, earlier this week, the Windy City has been plunged into a thirst fever the likes of which we have not seen since Hot Duck Mania swept New York City last fall.
"It's been absolutely crazy," Allison Stone, who lives near the gator's temporary abode, told the Cut. Stone says she was "glued to Twitter" all day after a friend alerted her to the gator's presence on Tuesday. She walked her dog over to the park that evening, and saw "at least 100 people out on the east side of the lagoon, lined up watching the water."
"It was like everyone was camping out for a sneaker drop or something," Stone continued. "People were crowded around every inch of the lagoon, fishing, hanging out, and drinking … News crews were all over."
According to the New York Times, the celebrity alligator measures about four feet from the tip of its powerful tail to the end of its intimidating snout. It may weigh anywhere between 10 and 30 pounds. As evidenced by the above photo, it definitely has mesmerizing reptilian eyes, with which it may occasionally wink coquettishly from the water. It's a real looker.
The gator likely landed in the lagoon after it grew too long (and, you have to guess, too unruly) to live comfortably in a bathtub as an un-permitted pet. Chicago authorities received their first gator report around 7:20 a.m. on Tuesday, and have cordoned off the area with caution tape. A volunteer named Alligator Bob has (seemingly with official permission) been working tirelessly to catch the creature, paddling a canoe into the pond to drop baited traps.
As the thrilling chase unfolds, droves of admirers have turned up on the pond's shores. They clamor for a glimpse of their foremost local celebrity, newly christened Chance the Snapper. (Per a local poll offering "sweet prizes" to the person who came up with the winning moniker, the gator has been definitively named for Chicago native Chance the Rapper.)
The Chicago Sun-Times estimates that 150 people flocked to see Chance on Wednesday night, when a salsa night party apparently turned into an alligator-spotting party, complete with "a live band and dancing." Speaking to the Times, locals described Chance as Chicago's "Loch Ness monster" and the city's unifying summer obsession. One intrepid fan guy even attempted (unsuccessfully) to reel Chance in with a rotisserie chicken on a string.
"The city is really having a moment," Stone said. Chance the Snapper trended on local Twitter. Neighborhood news site Block Club Chicago started selling gator watch gear. The "Danger Alligator in the Area" signs posted around the park are reportedly disappearing due to a widespread desire to commemorate this moment. Stone doesn't know anyone who's actually seen the alligator in person, but its mystery seems to add to the allure.
"I love the alligator," she said. Asked how she thought Chance compared to New York's wildly popular, apparently absent Mandarin Duck — the beautifully plumed bird that drew grand swarms to Central Park, lighting up Instagram and spawning at least one merch line — Stone replied: "This gator is absolutely in its own league. Sorry, but nothing can compare to this."
The people have spoken: Chicago's Hot Duck is an alligator, and its name is Chance the Snapper.